by Kelly Yang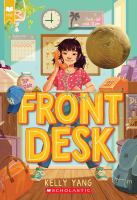 School Library Journal
(c) Copyright Library Journals LLC, a wholly owned subsidiary of Media Source, Inc. No redistribution permitted.

Gr 4-6-Mia Tang and her parents expected to work hard when they came to the United States, but they had no idea how difficult things would be. After a year or two struggling to make ends meet, they find themselves managing a motel for a cruel and exploitive owner. The work is exhausting and the problems are many, but the Tangs approach their new responsibility with determination, creativity, and compassion, making friends everywhere and sheltering a trickle of immigrants in worse straits than themselves. Ten-year-old Mia takes over the front desk, and makes it her own, while dreaming of a future as a writer. Based on Yang's own experiences as a new immigrant in the 1980s and 1990s, her novel speaks openly of hardship, poverty, assault, racism, and bullying, but keeps a light, positive tone throughout. Mia herself is an irresistible protagonist, and it is a pleasure to see both her writing and her power grow through a series of letters that she sends to remedy injustices. The hefty and satisfying dose of wish fulfillment that closes the story feels fully earned by the specificity and detailed warmth of Yang's setup. Many young readers will see themselves in Mia and her friends. -VERDICT A swiftly moving plot and a winsome protagonist make this a first purchase for any collection, especially where realistic fiction is in demand.-Katya Schapiro, Brooklyn Public Library © Copyright 2018. Library Journals LLC, a wholly owned subsidiary of Media Source, Inc. No redistribution permitted.
---
Horn Book
(c) Copyright The Horn Book, Inc., a wholly owned subsidiary of Media Source, Inc. No redistribution permitted.

Ten-year-old Mia, an immigrant from China, takes on front desk duties at the motel where her parents are managers. The family's grand dream of a free, prosperous life seems farther away than ever when a series of nightmarish events strikes. Mia's gradual understanding of racism and prejudice in 1990s America, and subsequent activism, are at the heart of this triumphant tale. Readers will admire Mia's audacity and creativity. (c) Copyright 2019. The Horn Book, Inc., a wholly owned subsidiary of Media Source, Inc. No redistribution permitted.
---
Kirkus
Copyright © Kirkus Reviews, used with permission.

Through the story of fifth-grader Mia Tang, readers experience the courage, hard work, and dreams of a young Chinese immigrant. A small room behind the office of the Calivista Motel is home for Mia and her parents. Hired by the rich, coal-hearted Mr. Yao, the family works bone-numbing hours cleaning rooms, fixing problems, and managing the front desk. Troubles check in from every direction: at home, where her mom belittles her love of writing; at school, where bullies and lies surround her; and especially at the motel, where the family battles financial ruin. Yet along the seemingly endless roller coaster of poverty, hope appears in small places. Debut author Yang weaves in autobiographical content while creating a feisty and empowered heroine. The supporting characters are rich in voice and context, with multiple villains and friends that achingly reveal life in America in the 1990s for persons of color and those living in poverty. Heavy themes, including extortion, fraud, and racism, are balanced with the nave dreams and determination of a 10-year-old. The power of Mia's newfound skill in English pushes her to fight for her community, which has lovingly become her adopted family in this new land. With bittersweet information on Chinese immigration to America added in an author's note, this book captures many important themes to explore individually or in the classroom. Many readers will recognize themselves or their neighbors in these pages. (Historical fiction. 8-12) Copyright Kirkus Reviews, used with permission.
---
Book list
From Booklist, Copyright © American Library Association. Used with permission.

*Starred Review* Set in the early 1990s in Anaheim, California, this earnest debut is partially inspired by the author's childhood. When Mia Tang's parents find a new job managing the Calivista motel, it seems like the answer to their prayers: free housing and a stable, secure job, neither of which have come easy to the recent Chinese immigrants. Fifth-grader Mia takes pride in working the front desk and becomes fast friends with the weeklies, for whom the motel is a semipermanent residence. But the motel's owner, Mr. Yao, is beyond mean he's flat out racist so Mia enters a writing contest to win their very own motel. It's the details that sing in this novel, particularly the small moments that feel like everything when you're a kid: winning (or not) the beloved classroom object, having your prized possession stolen, or being hurt by a parent's words. When Mia's mother says, You're a bicycle and the other kids are cars, meaning Mia's English will never be as good as a native speaker's, it's a crushing and lingering blow, especially for a budding writer. This book will help foster empathy for the immigrant experience for young readers, while for immigrant children, it is a much-needed and validating mirror. Though some of the events toward the end may stretch believability in an otherwise realistic novel, there is plenty to appreciate and admire. Deserving of shelf space in every classroom and library.--Barnes, Jennifer Copyright 2018 Booklist