by Patty Blount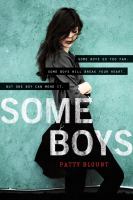 School Library Journal
(c) Copyright Library Journals LLC, a wholly owned subsidiary of Media Source, Inc. No redistribution permitted.

Gr 9 Up-If you saw Grace Collier walking down your high school hallway you'd likely step out of her way. With her "ass-kicking" studded boots and leather wristlets people think of Grace as a girl who can take care of herself. Which is why no one believes her when she claims Lacross star and ultra-popular man on campus, Zac, raped her at a party. Some Boys starts roughly one month after Grace is assaulted, and is told through her perspective and that of Ian, Zac's best friend. When Grace and Ian are thrown together to complete a Breakfast Club-style spring break detention, the two are both forced to relive the events of the party. What starts out as mutual hatred quickly turns to admiration, respect, and a touch of romance. Blount hits home with this novel, depicting rape culture without apology. Teens will find themselves torn between Grace's interpretation of the event and Ian's struggle to accept that his close friend and confidant may have actually attacked the girl he and his friends have spent the last month calling a slut. Discussion questions at the back of the novel make it a great book-club choice for libraries willing to tackle the tough topics. A great addition to most YA collections.-Jennifer Furuyama, Pendleton Public Library, OR (c) Copyright 2012. Library Journals LLC, a wholly owned subsidiary of Media Source, Inc. No redistribution permitted.
---
Book list
From Booklist, Copyright © American Library Association. Used with permission.

Grace dresses goth in tight black leather, spikes and studs, boots and black lipstick. To the outside world, she seems self-confident and aggressive, but inside, she's a needy mess, feeling neglected and unloved by her father, whose second marriage and new family always seem to take precedence over spending time with her. After Grace is raped by popular Zac, captain of the lacrosse team, she finds herself ostracized by the entire school, including all her former friends. The one person who seems willing to listen to her side of the story and perhaps believe her, is Zac's best friend, Ian. Told in alternating chapters by Grace and Ian, Blount's gripping novel delivers important messages about not blaming the victim, stressing that no means no, no matter what a woman wears or how drunk she is. Although sometimes overly didactic, the story's powerful delivery, realistic dialogue, and well-placed hooks make this a book that will be easy to sell to readers, especially reluctant ones.--Carton, Debbie Copyright 2014 Booklist
---
Kirkus
Copyright © Kirkus Reviews, used with permission.

In an instructive and carefully drawn tale, Grace, who has been raped, develops a tentative relationship with Ian, a friend and teammate of her rapist.Grace has been ostracized and taunted by classmates ever since she publicly accused a popular boy named Zac of raping her at a party. Ian is grounded after driving home from a different party drunk and running his dad's car into a mailbox. Both Grace and Ian get in trouble with school authorities for angry outbursts, and both are assigned to clean lockers during school break. The two are drawn to each other, but mistrust and misunderstandings abound. Grace and Ian narrate alternating chapters, and questions commonly asked in the aftermath of rape are answered with details that feel true to the characters. For example, Grace wears leather boots, studded cuffs and short skirts as a reaction to her sweater-set-loving stepmother and also because the clothes make her feel tough. A scene in which Grace dons Muslim garb to protest the way girls are judged by their appearances and offends Khatiri, an Afghani classmate, feels out of step with the rest of the book, particularly when Khatiri later shows up to offer Grace support. Readers will find themselves rooting, however, both for the romance and for Grace's and Ian's growth. A largely sensitive treatment of an emotionally complex topic. (Fiction. 14-18) Copyright Kirkus Reviews, used with permission.