by Jessie Janowitz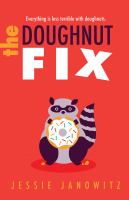 School Library Journal
(c) Copyright Library Journals LLC, a wholly owned subsidiary of Media Source, Inc. No redistribution permitted.

Gr 3-6-For basketball-playing, cake-baking Tristan, the fact that his parents have bought a new house is an unmitigated disaster. The house is in rural Petersville, NY, and that means Tristan has to move from his apartment in New York City, where he knows the local deli menu by heart, to a town so small that it has no restaurants. To Tristan, who has baked almost all the recipes in White House pastry chef Roland Mesnier's cookbook, this seems unthinkable. Just as the boy is about to give up all hope in Petersville, he learns that the grumpy general store owner has a secret recipe for chocolate cream doughnuts which apparently are "life-changing." With the help of a new friend Josh, the town librarian's son, Tristan goes on an epic quest to find out the secret recipe and bring the famed doughnuts back to the sleepy town. As he navigates his way through negotiating prices with vendors and farmers, keeping the pastry gun out of his four-year-old sister's hands, and trying to cheer up his older sister, Tristan finds that setting up a doughnut stand is harder than it looks. Budding entrepreneurs who enjoyed Jacqueline Davies's "Lemonade War" series will enjoy this tale about a kid chef starting a business. Tristan is a refreshing protagonist who is comfortable in his own skin amidst his varied interests of basketball, cooking, and being a sympathetic, if occasionally frustrated, brother. His family members-a quirky, relentlessly optimistic father; restauranteur/caterer mother; a grumpy but brilliant older sister; and an effervescent handful of a younger sister-all help to create a warm and delicious start to a new series. VERDICT Tightly written and accessible. Hand to budding entrepreneurs and chefs; this is will be a nice entree in their menu of reading choices.-Evelyn Khoo Schwartz, Holton Arms School, Bethesda, MD © Copyright 2018. Library Journals LLC, a wholly owned subsidiary of Media Source, Inc. No redistribution permitted.
---
Book list
From Booklist, Copyright © American Library Association. Used with permission.

Tristan and his sisters can't believe it when their parents announce that they're moving from the best city in the world (New York) to barely-a-town Petersville. The only good thing he's spotted there so far is the general store's sign reading, Yes, we do have chocolate cream doughnuts! Suddenly, Tristan wants a doughnut more than anything in the world, but he's crushed to learn the store's owner, Winnie, no longer makes them. Having a chef for a mom, Tristan has grown up baking, and he is sure he could make and sell Winnie's once-famous doughnuts. The catch? Winnie only agrees to hand her recipe over when Tristan can show her a viable business plan. As Tristan works on his plan (from sourcing ingredients to getting a business license), he finds friendship and a place in his new community. Janowitz accurately portrays the chaotic emotions moving can trigger in this sweet, relatable story. Tristan's doughnut endeavor will hold wide appeal as a pleasure read, and may inspire young foodies or entrepreneurs to think beyond the lemonade stand.--Smith, Julia Copyright 2018 Booklist
---
Kirkus
Copyright © Kirkus Reviews, used with permission.

Tristan's family has always loved living in New York City, but all that is about to change.Dad announces that they are moving to a dilapidated, purple house on a hill on the outskirts of the very small town of Petersville in upstate New York. Baby sister Zoe is frightened and confused. Jeanine, two years younger than Tristan and a math genius in gifted and talented classes, is appalled and worried about her educational prospects. Tristan is devastated, for he is a city kid through and through. Because they won't be starting school for several months, their parents tell Jeanine and Tristan they must complete a project. Jeanine selects a complicated scientific and mathematical study that allows her to remain uninvolved with people. Tristan, who loves to cook, like his chef mom, decides to start a business making and selling the supposedly mind-blowing chocolate-cream doughnuts once famous in Petersville but now no longer made. His business plan leads to adventures, new friends, and a sense of acceptance. Tristan is a charmer; he's earnest, loving, wistful, and practical, and he narrates his own tale without guile. But he is the only character so well definednext to him, the supporting cast feels flat. The family is described as Jewish early on, but their Judaism is kept well to the background; the people of Petersville are white by default.A bit disjointed and episodic, but Tristan is a likable companion. (recipes, business plan, acknowledgements) (Fiction. 8-10) Copyright Kirkus Reviews, used with permission.