by Tae Keller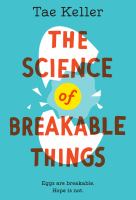 School Library Journal
(c) Copyright Library Journals LLC, a wholly owned subsidiary of Media Source, Inc. No redistribution permitted.

Gr 4-6-Seventh-grader Natalie is sometimes annoyed, but oftentimes amused by her enthusiastic science teacher, Mr. Neely, who encourages his students to ask questions and use the scientific method to solve problems. This is all well and good for Natalie, but the only question the tween is interested in lately is why has her mother has stopped caring about her and why she cannot seem to get out of bed. Her mother is a botanist who discovered a rare cobalt blue orchid, a miracle of a flower that survives in a toxic environment in New Mexico. So Natalie is somewhat ambivalent when Mr. Neely encourages her to enter an "egg drop contest"-not exactly her top priority-until she hears about the substantial prize money. Natalie is determined to win so that she can replace the now-dead orchid and give her mother the joy she needs. As she tries to navigate the problem of keeping the fragile egg safe during a fall, she begins to feel the cracks in her own life as her mother's depression affects her more deeply. Natalie's reluctance to acknowledge her own feelings and ask painful questions keeps her from really engaging with her friends and fellow "egg drop" teammates. Natalie learns that, as with the egg, people, too, are fragile and need support and padding to break their falls. VERDICT An emotional story that explores parental depression with realism and empathy.-Patricia Feriano, Montgomery County Public Schools, MD © Copyright 2018. Library Journals LLC, a wholly owned subsidiary of Media Source, Inc. No redistribution permitted.
---
School Library Journal
(c) Copyright Library Journals LLC, a wholly owned subsidiary of Media Source, Inc. No redistribution permitted.

Gr 3-7-When Natalie's new seventh grade science teacher hands out journals so each student can spend the school year pondering their own "big question," Natalie is hesitant. She used to love science, and alongside her botanist mother, she performed all sorts of experiments. But her mother's depression has kept her in bed for weeks, and the only question Natalie cares about now is: How she can get her mom back? At her science teacher's encouragement, she and her friends Twig and Dari enter an egg-drop competition, and Natalie secretly hopes to use the prize money to cheer her mother up with her favorite plant, a cobalt blue orchid. Narrator Jennifer Kim deftly portrays Natalie's range of emotions, including worry, hope, excitement, frustration, and determination as she navigates not only challenging relationships with friends, but also her secret struggle with her Mom's depression. VERDICT This unforgettable debut has strong STEM tie-ins, and the realistic yet sensitive portrayal of mental illness hits just the right notes for middle grade listeners.-Anne Bosievich, Friendship Elementary School, Glen Rock, PA © Copyright 2018. Library Journals LLC, a wholly owned subsidiary of Media Source, Inc. No redistribution permitted.
---
Book list
From Booklist, Copyright © American Library Association. Used with permission.

*Starred Review* For fans of The Thing about Jellyfish (2015) comes a clever debut combining science with a tough topic. Natalie's hashtag-loving seventh-grade science teacher, Mr. Neely, encourages his students to tackle long-term projects using the scientific method, which is how Natalie and her BFF Twig enter the classic egg-drop contest. But Natalie is also undertaking a more personal science experiment, trying to bring her botanist mother out of depression. She's convinced the $500 prize for Operation Egg will provide the funds to fly Mom to New Mexico to see the Cobalt Blue Orchid, a flower that thrives in the harshest conditions, and everything will go back to normal again. Along with a plot that includes several experiments and diagrams, Keller crafts a winning story full of heart and action that balances the weighty subject of a child dealing with a parent's depression. Natalie is a well-rounded, complex character whose two parents, in a rarity for middle-grade fiction, have story arcs all their own. Part Korean on her father's side, Natalie yearns for a deeper connection to her Korean heritage. Aside from the obvious connection to STEM, Keller's layered, accessible story has offers beautifully crafted metaphors, a theme of mending old friendships and creating new ones, and an empowering teacher to a variety of readers. A moving story about fragility and rebirth.--Barnes, Jennifer Copyright 2018 Booklist
---
Kirkus
Copyright © Kirkus Reviews, used with permission.

A middle school story in which parental depression manifests itself in absence.Natalie's vivacious botanist mother (who's white) has retreated from life, leaving her therapist husband (who's biracial) and daughter to fill the gaping hole she has left. With the help of an egg-drop contest and a scientific-method project, Natalie explores breakable things and the nurturing of hope. Narrating in first-person, the mixed-race seventh-grader (1/4 Korean and 3/4 white) is drawn to her mother's book, titled How to Grow A Miracle. It reminds her of when her mother was excited by science and questions and life. With a STEM-inspired chapter framework and illustrated with Neonakis' scientific drawings, Keller's debut novel uses the scientific method to unpack the complex emotions depression can cause. Momentum builds over nine months as Natalie observes, questions, researches, experiments, and analyzes clues to her mother's state of mind. Providing support and some comic relief are her two sidekicks, Dari (a smart Indian immigrant boy) and Twig (Natalie's wealthy, white best friend). The diversity of the characters provides identity and interest, not issue or plotline. Tension peaks at the egg-drop contest, as the three friends plan to use the prize winnings to bring Natalie's mother back to life with a gift of a rare cobalt blue orchid. Paralleling their scientific progress, Natalie reluctantly experiences her first visits to talk therapy, slowly opening like a tight bloom.A compassionate glimpse of mental illness accessible to a broad audience. (Fiction. 10-14) Copyright Kirkus Reviews, used with permission.
---
Publishers Weekly
(c) Copyright PWxyz, LLC. All rights reserved

Natalie Napoli's seventh-grade science class is working on a yearlong experiment, recording their findings in "Wonderings journals." The text of Natalie's journal comprises Keller's moving debut novel. Natalie used to like science and spent much of her childhood in her botanist mother's laboratory. But her mother, suffering from severe depression, has barely left her bedroom in months. Natalie and her best friend Twig collaborate with new student Dari to win an egg drop contest for their experiment, and Natalie imagines using the prize money to fly with her mother to New Mexico, home to a striking cobalt blue orchid, born out of a toxic chemical spill, that her mother had been studying. Natalie's Korean heritage is sensitively explored, as is the central issue of depression and its impact; Keller draws thoughtful parallels between Natalie's mother's struggles and the fragility of orchids and eggs. Natalie's fraught relationship with her mother, and her friendships with Twig and Dari, are the heart of the book, but science is its soul. Ages 8-12. Agent: Sarah Davies, Greenhouse Literary. (Mar.) © Copyright PWxyz, LLC. All rights reserved.