by Chad Morris and Shelly Brown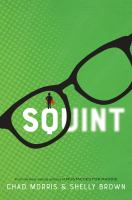 School Library Journal
(c) Copyright Library Journals LLC, a wholly owned subsidiary of Media Source, Inc. No redistribution permitted.

Gr 5-7-Sixth grader Flint (aka Squint) is feverishly trying to finish making his comic book in order to enter it in the "Find a Comic Star" contest. Due to a genetic eye disease, keratoconus, he wears thick glasses and has double, sometimes triple or quadruple, vision. Flint, who lives with his grandparents, spends most of his time alone working on his comic book. When McKell, a new girl at school and part of the popular group, sits with him at lunch, he's wary at first, but she seems genuine. She invites him to take a hike after school and talks about her brother Danny's YouTube videos where he posts challenges asking people to push themselves and try new things. After Flint tears his cornea and has surgery, he sees better than he has in years, a cause for celebration until he sees his comic more clearly and realizes that it isn't as good as he thought. He quits drawing, but after Danny dies of heart disease, a consequence of having progeria, a disease where you prematurely age, he works with McKell to fulfill Danny's last challenge, a chance for them both to achieve their dreams. Flint and McKell are sympathetic protagonists with relatable concerns and issues. The challenges of middle school are leavened with humor through the "Middle School Rules" sprinkled throughout the story. The use of the comic book as a metaphor for Flint's experiences would have been more impactful if it had been shown as the actual comic rather than written as text. This small flaw aside, this is a moving story about friendship, loss, and seeing life from other people's point of view. VERDICT Recommended for any library serving middle grade readers.-Kefira Phillipe, Nichols Middle School, Evanston, IL © Copyright 2018. Library Journals LLC, a wholly owned subsidiary of Media Source, Inc. No redistribution permitted.
---
Kirkus
Copyright © Kirkus Reviews, used with permission.

Thirteen-year-old Flint, aka "Squint," is determined to finish his comic book in time to enter it in a contestand before he loses so much more of his eyesight that he can no longer see to draw.Squint has a degenerative corneal disease that has left him with thick glasses that do little to correct his vision but make him a magnet for bullying by popular kids. When popular McKell reaches out to him, his first reaction is to protect himself by rejecting her. But then he discovers that she's dealing with plenty herself; her older brother, Danny, has progeria, a rare disease that's killing him. Danny has a popular YouTube channel in which he suggests challenges or activities designed to bring people together. After his death, the videos keep coming, serving, poignantly, to draw McKell and Squint closer as he gradually emerges from his self-imposed isolation. Squint's comic-book tale accompanies and parallels his first-person narration, crafting a fantasy world where Squint can be the superhero of his dreams. But it's the drawing of the comics that presents the greatest challenge to him with his poor vision. The book assumes a white default, with Squint assumed white and biracial McKell half-Filipina and presumably half-white. That Squint's drawings are not included seems like a major missed opportunity to broaden this sometimes-maudlin tale of loss and redemption.In spite of its predictability, likely to find an appreciative audience among young teens. (Fiction. 11-14) Copyright Kirkus Reviews, used with permission.