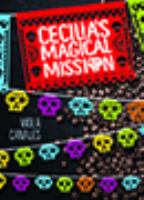 Kirkus
Copyright © Kirkus Reviews, used with permission.

California teen Cecilia faces a difficult decision: Her confirmation is near, and she needs to choose a patron saint who represents her don, or celestial gift.Cecilia has no clue where to start. While she is impatient with her family's Mexican Catholic culture and traditions, her white best friend, Julie, is fascinated and urges Cecilia to start taking the task of discovering her gift seriously. Following Cecilia's mother's stillbirth at 20 weeks, the community holds a kerms carnival, to raise money to send the family to Santa Cecilia, Mexico, to bury her sister before her soul reaches heaven. The girls' Ethiopian immigrant classmate joins in the spiritual quest as the trio interview community members about their don stories. The more people they speak with, the more questions they have about the spiritual world. They discuss beliefs such as that a child receives a soul and is a person at conception and that the Sandy Hook shooter was possessed by the devil. While the element of honoring grief through ritual is handled well, Cecilia's two main quests are, disappointingly, left unresolved. This very slow-paced and excessively long novel allows readers to witness the girls' spiritual journeys as they accept the presence of angels, the afterlife, and the devil and promise to fight evil through doing good in their lives.Despite lacking the adventurous content suggested by the title, this may appeal to readers exploring their faith. (Fiction. 12-14) Copyright Kirkus Reviews, used with permission.
---
Kirkus
Copyright © Kirkus Reviews, used with permission.

Magic and religion intermingle in a quest to find purpose. Eighth graders Cecilia and Julie are close friends who live in the same apartment building. Julie relocated from New York to California after Hurricane Sandy destroyed their lives, and her mom is battling deep depression that keeps her in bed most days. Cecilia helps out in the family taco truck when she can. Her Catholic Confirmation is approaching, so she'll need to select her patron saint, one who connects to her don—or special, innate gift—as soon as possible. Only she is not yet sure what her don is. A family tragedy means that Cecilia and her parents must rely on their tightknit community to help finance a trip home to Mexico. Now, pressure is mounting for Cecilia to find her don so that she can help her family when they need it most—but Cecilia is conflicted about forging a deeper relationship with her religion and culture and the time it takes away from her dedication to school. Busy readers will identify with Cecilia's feelings of being torn between family pressure, schoolwork, and friends. Spirituality is central to the story, and Cecilia's godmother guides her, along with readers, to understand the deep cultural significance and mysticism inherent to some beliefs. Cecilia's parents immigrated to the U.S. from Mexico; Julie is presumed White. This journey to discover identity is a rocky road punctuated by miracles and strong coffee. (Fiction. 12-18) Copyright © Kirkus Reviews, used with permission.