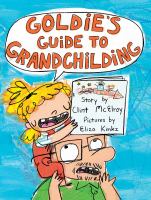 Kirkus
Copyright © Kirkus Reviews, used with permission.

While spending the day with Grandpa, young Goldie offers tips on the care and keeping of grandparents. Though "loyal and loving," Goldie's grandfather proves to be quite a character. At Grandparents Day at school, his loud greeting and incessant flatulence are embarrassing, but Goldie is confident that he—and all grandparents—can be handled with the "right care and treatment." The young narrator notes that playtime should involve the imagination rather than technology—"and NO video games. It's just too much for them." Goldie observes that grandparents "live on a diet of all the things your parents tell them are bad for them" but finds that Grandpa's favorite fast-food restaurant does make for a great meal out. The narrator advises that it's important for grandparents to get plenty of exercise; Grandpa's favorite moves include "the Bump, the Hustle, and the Funky Chicken." The first-person instruction and the artwork—drawn in a childlike scrawl—portray this grandfather in a funny, though unflattering, stereotypical light as he pulls quarters from Goldie's ears, burps on command, and invites Goldie to pull his finger. Goldie's grandfather seems out of touch with today's more tech-savvy and health-oriented older people who are eager to participate with their grandchildren in contemporary activities. Though some grandparent readers may chuckle, kids may wonder how this mirrors their own relationships. Goldie and Grandpa are light-skinned; Goldie's classmates are diverse. (This book was reviewed digitally.) Intended as an amusing parody, this groans with outdated irrelevance and immaturity. (Picture book. 4-6) Copyright © Kirkus Reviews, used with permission.
---
Publishers Weekly
(c) Copyright PWxyz, LLC. All rights reserved

"So you've decided to be a grandchild," starts this how-to from a pink-skinned, blond-haired child who's prepping classmates for Grandparents Day. Using Goldie's own grandfather as a case in point, the child expertly notes that grandparents are flatulent, forgetful car-parkers, and are often flummoxed by technology. But while McElroy's protagonist may express amazement at some grandparental traits ("they are OBSESSED with going to the potty!"), equally enthusiastic observations appreciate that Grandpa dances the funky chicken and enlists Goldie as a co-conspirator in eating "all the things your parents tell them are bad for them." Kinkz, making her picture book debut, captures Goldie's chatty candor with vignettes that combine scrawly ink lines with loopy crayon textures. When Goldie and her grandfather regard a parentally forbidden, multistory ice cream dessert, obtained with one of Grandpa's beloved coupons, their eyes light up with identical hearts of love—the very definition of soul mates. Ages 5–8. (May)
---
Book list
From Booklist, Copyright © American Library Association. Used with permission.

Addressing young readers who have made the big decision to be grandchildren, McElroy and Kinkz offer a guide to the care and feeding of elders—from sharing proper toys ("NO video games. It's just too much for them") to getting them into rocking chairs for a lullaby at bedtime. In the scribbly illustrations, a small child squires her exuberant, if clueless-looking grandpa through after-school playtime, a trip to the local ice cream buffet ("They live on a diet of all the things your parents tell them are bad for them. This can work to your advantage"), and other activities involving, for example, simple magic tricks, burping on command, and pulling a finger. The resulting cozy sense of togetherness makes all the responsibility well worthwhile, and "you will find that grandparents can be loyal and loving companions." A great addition to the childing shelf, alongside such classic manuals as Jean Reagan's How to Babysit a Grandpa (2012), illustrated by Lee Wildish, and its complementary sequel, How to Babysit a Grandma (2014).
---
School Library Journal
(c) Copyright Library Journals LLC, a wholly owned subsidiary of Media Source, Inc. No redistribution permitted.

PreS-Gr 2—In a book that subverts the how-to category when it comes to parenting, Goldie is a blonde-haired, pink-skinned child who instructs fellow grandchildren on how to take care of their grandparents. She creates some helpful rules such as make sure grandparents exercise with some funky dances, keep toy choices simple (yo-yos, not video games), and tolerate their pranks. After a full day of grandparenting, Goldie reports, they'll be sleeping like a baby. Scrawled funny scenes that emulate children's drawings, along with the narration, are full of potty jokes and other gross humor, all the things that make children giggle. It is a bit wacky, but works well with the tone of the writing. One potential flaw of this book is the font choice, which may be difficult for some emerging readers, though it perfectly suits the playfulness of the book. VERDICT More gift book for new grandparents than collection builder, this book takes chances, and may miss its mark.—Sarah West