by James McBride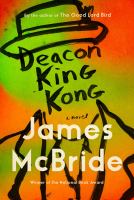 Library Journal
(c) Copyright Library Journals LLC, a wholly owned subsidiary of Media Source, Inc. No redistribution permitted.

It's September 1969 in a rapidly changing Brooklyn community, where drugs are starting to flourish, African American and Latinx residents face the hostility of their Italian and Irish neighbors, and unassuming, gray-haired Baptist deacon Sportcoat walks into the courtyard of a housing project and shoots the project's drug dealer dead. McBride, here following his National Book Award-winning The Good Lord Bird and the story collection Five-Carat Soul, an LJ Best Book, recounts what happens next with deep-hearted humanity and a touch of wit.
---
Publishers Weekly
(c) Copyright PWxyz, LLC. All rights reserved

McBride (The Good Lord Bird) delivers a sharply compassionate shaggy dog tale of a heavy drinking Baptist deacon who shoots a drug dealer and becomes a "walking dead man." In the autumn of 1969, handyman and occasional baseball coach Deacon Cuffy Lambkin, known to his friends as "Sportcoat" because of his colorful wardrobe or as "Deacon King Kong" on account of his equal affection for a moonshine with that name, inexplicably shoots off the ear of Deems Clemens, Sportcoat's former baseball protégé. This sets in motion a hunt for Sportcoat by Deems's employers that draws in Tommy "Elephant" Elefante, a sweetly melancholy Italian mover of "hot goods" whose grip on the neighborhood is slipping, and scrupulous police officer "Potts" Mullen, who is on the brink of retirement. As Deems's crew ineffectually try to murder Sportcoat, Elephant follows clues left by his dead father to find a hidden treasure, and Potts tries to keep the neighborhood safe while falling for the wife of a preacher, McBride unravels the mystery of Sportcoat's inexplicable ire against Deems. With a Dickensian wealth of quirky characters, a sardonic but humane sense of humor reminiscent of Mark Twain, and cartoonish action scenes straight out of Pynchon, McBride creates a lived-in world where everybody knows everybody's business. This generous, achingly funny novel will delight and move readers. (Mar.)
---
Kirkus
Copyright © Kirkus Reviews, used with permission.

The versatile and accomplished McBride (Five Carat Soul, 2017, etc.) returns with a dark urban farce crowded with misjudged signals, crippling sorrows, and unexpected epiphanies.It's September 1969, just after Apollo 11 and Woodstock. In a season of such events, it's just as improbable that in front of 16 witnesses occupying the crowded plaza of a Brooklyn housing project one afternoon, a hobbling, dyspeptic, and boozy old church deacon named Cuffy Jasper "Sportcoat" Lambkin should pull out a .45-caliber Luger pistol and shoot off an ear belonging to the neighborhood's most dangerous drug dealer. The 19-year-old victim's name is Deems Clemens, and Sportcoat had coached him to be "the best baseball player the projects had ever seen" before he became "a poison-selling murderous meathead." Everybody in the project presumes that Sportcoat is now destined to violently join his late wife, Hettie, in the great beyond. But all kinds of seemingly disconnected people keep getting in destiny's way, whether it's Sportcoat's friend Pork Sausage or Potts, a world-weary but scrupulous white policeman who's hoping to find Sportcoat fast enough to protect him from not only Deems' vengeance, but the malevolent designs of neighborhood kingpin Butch Moon. All their destines are somehow intertwined with those of Thomas "The Elephant" Elefante, a powerful but lonely Mafia don who's got one eye trained on the chaos set off by the shooting and another on a mysterious quest set in motion by a stranger from his crime-boss father's past. There are also an assortment of salsa musicians, a gentle Nation of Islam convert named Soup, and even a tribe of voracious red ants that somehow immigrated to the neighborhood from Colombia and hung around for generations, all of which seems like too much stuff for any one book to handle. But as he's already shown in The Good Lord Bird (2013), McBride has a flair for fashioning comedy whose buoyant outrageousness barely conceals both a steely command of big and small narrative elements and a river-deep supply of humane intelligence.An exuberant comic opera set to the music of life. Copyright Kirkus Reviews, used with permission.
---
Library Journal
(c) Copyright Library Journals LLC, a wholly owned subsidiary of Media Source, Inc. No redistribution permitted.

This latest from National Book Award winner McBride (The Good Lord Bird) offers a snapshot of 1969 Brooklyn, focusing on a housing project called the Cause Houses and the Italian neighborhood that borders it. It's a lively place peopled by characters named Bum-Bum and Hot Sausage, with the action centered on a good-natured old drunk named Sportcoat (or Deacon King Kong, a nickname derived from his potent drink of choice). In the book's opening pages, the underemployed and recently widowed Sportcoat shoots a local drug dealer, which provides a springboard for Sportcoat's life story and the larger story of the Cause Houses. These are dark, changing times: Heroin has crept in, and the segregation that was quietly tolerated for so long becomes a greater factor in the characters' lives. But McBride tells that story with a light hand and throughout emphasizes a desire for connection, e.g., Sportcoat's for his dead wife and NYPL lifer Potts's for Miss Gee, a Cause Houses stalwart. Hard though life is, community binds the characters together. VERDICT Much is unpacked by the time the book reaches its lovely and heartfelt climax, as McBride shows what can happen when people set aside their differences. Highly recommended, especially for fans of Jacqueline Woodson and Spike Lee. [See Prepub Alert, 9/9/19.]—Stephen Schmidt, Greenwich Lib., CT
---
Book list
From Booklist, Copyright © American Library Association. Used with permission.

National Book Award-winner McBride (Five-Carat Soul, 2017) portrays a 1969 Brooklyn neighborhood through its outsiders, from the Irish to Italians, Puerto Ricans, and African Americans who came north during the Great Migration. At 71, the titular deacon is the least likely of heroes; residents of the Cause Houses wonder how he's still alive. Barely coherent, Cuffy Sportcoat Lambkin rehearses for arguments with his late wife, Hettie, and drinks to clear his thoughts, running off to the boiler room to down some King Kong, a local white lightning, usually with his best friend, Hot Sausage. When he shoots Deems Clemens, the boy he coached in baseball who has become a drug-dealer at 19, everyone assumes the deacon's days of freedom are numbered. But all is not as it seems. As the deacon begins to reckon with his past, he also protects the young man's future and brings some stability to his community. McBride creates tragedies, funny moments, major plot twists, and cultural and generational clashes. A sense of shared struggle emerges as diverse characters develop emotionally while navigating a world that's changing for better and for worse. While historical fiction fans will appreciate the richly detailed approach to Brooklyn's grittiness, McBride's neighborhood saga ultimately sets a new standard for multidimensional fiction about people of color.--Parker Daniel Copyright 2020 Booklist
---
Library Journal
(c) Copyright Library Journals LLC, a wholly owned subsidiary of Media Source, Inc. No redistribution permitted.

Why would a fumbling, aging deacon shuffle into the courtyard of the Cause Houses housing project in south Brooklyn and shoot the project's ruthless teen drug dealer in front of everyone? No one knows. Though he cannot even remember the incident, this man, known as Sportcoat, seemingly sets off a spiral of events that impact the lives of characters caught up in the turmoil of 1969. African American and Latinx residents, white neighbors, and the local police department find themselves caught between the Five Ends Baptist Church, the neighborhood's Italian mobsters, cultural misunderstandings, and the onslaught of drugs and their effects on the youth of this declining area. There's plenty of humor in this story of the machinations of tough criminals who have turned the heads of youth from baseball toward the drug industry. The author humanizes church-goers and criminals alike as he enlightens readers without excusing the actions of his characters. Change inevitably comes. How you handle that change makes the difference. Remembrances of Jazz and the Negro Leagues are juxtaposed against the new players on the scene. Narrator Dominic Hoffman gives a masterful performance. Sounding young then old, wizened then clueless, Hoffman brings to life each of the eccentric, realistic characters. In between the twisting plotline, the witty dialogue, and the comic scenes is an insightful look into the lives of people living in the midst of adjustments, redirections, and cultural upheaval. VERDICT This is an essential purchase which will be both entertaining and illuminating for those interested in history, diversity, and racism.—Lisa Youngblood, Harker Heights P.L., TX