by Taylor Jenkins Reid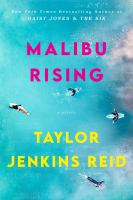 Kirkus
Copyright © Kirkus Reviews, used with permission.

In the early 1980s, four Malibu surfer siblings throw a raging party that forces them to confront their pasts in this new novel from the author of Daisy Jones & the Six (2019). The Riva siblings didn't have an easy childhood. Their father was a famous singer who came and went whenever he wanted, finally leaving for good. Their mother was an alcoholic, leaving her oldest daughter, Nina, to take on the bulk of the parenting. Nina ends up becoming a surf model to earn enough money to take care of her siblings: Jay, who becomes a pro surfer, Hud, who becomes a surf photographer, and the youngest, Kit, who hopes to follow in their surfing footsteps. Their rocky childhood led them to become extremely close as adults, and no tradition means more to them than the annual Riva party, held at Nina's beach house. It's typically raucous and full of celebrities behaving badly, but the real drama this time ends up coming from the secrets the Rivas are keeping from each other. Reid alternates between the siblings' current-day party preparations and the story of their past: how their parents, Mick and June, met in the 1950s, fell in love, and had a tumultuous relationship. By the time the end of the party rolls around, the siblings each realize the many ways their pasts continue to affect their futures. Reid's descriptions of Malibu are so evocative that readers will swear they feel the sea breeze on their faces or the grit of the sand between their toes. The Rivas have a believable sibling dynamic, and the family members are complex and delightfully flawed (especially Mick, whose bad decisions reverberate throughout the novel). A compulsively readable story about the bonds between family members and the power of breaking free. Copyright © Kirkus Reviews, used with permission.