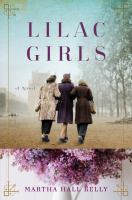 Library Journal
(c) Copyright Library Journals LLC, a wholly owned subsidiary of Media Source, Inc. No redistribution permitted.

During World War II Polish teenager Kasia Kuzmerick's decision to join the Resistance movement in her hometown results in her being exiled to the brutal Nazi concentration camp of Ravensbrück. There she becomes a victim of German doctor Herta Oberheuser, whose misguided patriotism and ambition lead her to perform horrific medical experiments on prisoners. Meanwhile, American socialite Caroline Ferriday spends the war sending relief overseas while experiencing the pain of a tortured love affair. The trauma of the conflict continues long after 1945 for all three women. It's apparent that Kelly, who was inspired by real events and people, has done the research necessary to tell this extraordinarily powerful historical story well. She vividly evokes not only the horrors of the gruesome experiments but also the painful realities of trying to survive them and the difficult search for justice and closure afterward. While Herta remains a bit enigmatic compared to the other two main characters, the overall story of the three women's intertwining lives is extremely moving and memorable. -Verdict This impressive debut should appeal strongly to historical fiction readers and to book clubs that adored works such as Kristin Hannah's The Nightingale and -Anthony Doerr's All the Light We Cannot See. [-Previewed in "Editors' Spring Picks," LJ 2/15/16; library and academic marketing.]-Mara Bandy, Champaign P.L., IL © Copyright 2016. Library Journals LLC, a wholly owned subsidiary of Media Source, Inc. No redistribution permitted.
---
Book list
From Booklist, Copyright © American Library Association. Used with permission.

*Starred Review* Spanning more than 20 years in the lives of 3 women and based on real people and events, Kelly's debut brings historical facts to startling life. As the narrative begins in 1939, Caroline Ferraday is a former Broadway actress and New York socialite who works with the French consulate, Herta Oberheuser is an ambitious young German doctor, and Kasia Kuzmerick is a 15-year-old Polish girl just getting involved with the resistance. As WWII progresses and Hitler's army proceeds through Europe, circumstances draw these women together. Caroline's relief work becomes more necessary. Herta secures a position as camp doctor at Ravensbrück, and Kasia is transported there with her mother and sister after her courier activities are reported. When the war ends and the camp is liberated, the story continues. Caroline pursues reparations and justice for the displaced, Herta is tried and convicted of war crimes, and Kasia attempts to return to a normal existence in now-Communist Poland, marrying and having a baby. Details of fundraising efforts, immigration issues, Reich politics, camp life, and interpersonal relationships make for a gripping read that lingers well after the book ends. Offer this to WWII aficionados, biography fans, and book clubs.--Moroni, Alene Copyright 2016 Booklist
---
Kirkus
Copyright © Kirkus Reviews, used with permission.

Kelly's three narrators are based on actual people whose destinies converged in or around Ravensbrck, Hitler's concentration camp for women. It's 1939: Hitler has invaded Poland, and although few suspect it, France is next. Caroline, a former debutante who, at 37, appears to have missed her chance for marriage, does charity work at the French Consulate in Manhattan. Requests for visas accelerate, as does demand for the care packages Caroline sends overseas. When her married would-be lover, Paul, leaves New York for Paris shortly before the Germans march in, Caroline fears the worst. Kasia, a former Girl Guide, joins an underground youth group after the Nazis occupy her hometown of Lublin, Poland. Soon she's arrested, along with her mother and sister, Zuzanna, a medical student. The women are sent to Ravensbrck, a concentration camp whose mission is to work the prisoners to deaththose, that is, who aren't terminated immediately upon arrival. (A crude form of lethal injection is used, as the Nazis are still experimenting with more efficient means of mass murder.) Kasia watches in horror as one of her former teachers is fatally mauled by a dog set on her by Binz, the head guard. Young physician Herta, the third narrator, is a loyal German and Nazi. Although not happy about Hitler's edict that women doctors cannot be surgeons, she's less than upset when her father's Jewish doctor is deported. She accepts a post at Ravensbrck, where her Hippocratic oath is immediately compromised: her first duty is to dispatch an elderly prisoner. Her eagerness to scrub in quickly overcomes any remaining scruples as Herta conducts grisly surgical "experiments" on inmates, including Kasia. The women, many permanently maimed, who undergo these "studies" become known as the "Rabbits." Kelly vividly re-creates the world of Ravensbrck but is less successful integrating the wartime experience of Caroline, whose involvement with the surviving Rabbits comes very late. In this mashup of two war novels, the more conventional New York story pales by comparison. Copyright Kirkus Reviews, used with permission.
---
Publishers Weekly
(c) Copyright PWxyz, LLC. All rights reserved

Kelly's compelling first novel follows three women through the course of World War II and beyond. Caroline, a wealthy New Yorker, volunteers at the French consulate in New York, assisting refugees and raising funds. She meets Paul, a charming, married French actor, and sparks fly. Kasia, a young woman living in Poland during the Nazi invasion, works for the resistance until she is captured and sent to Ravensbruck, the women's concentration camp. There, she encounters Herta, a doctor hired to help execute inmates and perform experiments. Though her mother is Herta's trusted assistant, and even saved a camp guard's life, Kasia is operated on, joining the "Rabbits," inmates deformed from their surgeries. Meanwhile, Caroline loses touch with Paul when he returns to France to find his wife, and she finds herself tasked with keeping track of the growing concentration camp network for the consulate, learned from British intelligence. After the war, she travels to France to assist in locating missing people, where she learns about the Rabbits, including Kasia, who is struggling to let go of her anger and move on with her life. Despite some horrific scenes, this is a page-turner demonstrating the tests and triumphs civilians faced during war, complemented by Kelly's vivid depiction of history and excellent characters. Agent: Alexandra Machinist, Curtis Brown. (Apr.) © Copyright PWxyz, LLC. All rights reserved.