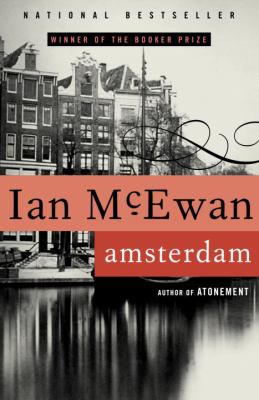 Amsterdam
by Ian McEwan


Library Journal Two lovers of feisty Molly Lane, both influential men, make a pact upon her death that leads to tragedy. (c) Copyright 2010. Library Journals LLC, a wholly owned subsidiary of Media Source, Inc. No redistribution permitted.
(c) Copyright Library Journals LLC, a wholly owned subsidiary of Media Source, Inc. No redistribution permitted.
Publishers Weekly As swift as a lethal bullet and as timely as current headlines, McEwan's Booker Prize-winning novel is a mordantly clever?but ultimately too clever for its own good?exploration of ethical issues. Two longtime friends meet at the cremation of the woman they shared, beautiful restaurant critic and photographer Molly Lane. Clive Linley, a celebrated composer, and Vernon Halliday, the editor of a financially troubled London tabloid, could never understand Molly's third liaison?with conservative Foreign Secretary Julian Garmony, who is angling to be prime minister, or her marriage to dour but rich publisher George Lane. Mourning the manner of Molly's agonizing death, which left her mad and helpless at the end, each man pledges to dispatch the other by euthanasia should he be similarly afflicted. Immediately afterwards, both Clive and Vernon are enmeshed in a crisis: Clive must finish his commissioned Millennium Symphony so it can premiere in Amsterdam, and Vernon must grapple with the moral issue of publishing photos of Julian Garmony in drag that George has discovered with Molly's effects. The clash between whether the demands of pure art are more valid than political accountability and financial solvency soon assumes a larger dimension that turns Clive and Vernon into bitter enemies and inspires each of them to seek revenge by the same means. McEwan spins these plot developments with smooth alacrity and with acidulous wit, especially focused on the way shallow and mediocre people can occupy positions of power and esteem: "In his profession, Vernon was revered as a nonentity." His ability to sculpt a scene with such arresting visual detail that it assumes a physical dimension for the reader (most memorably in the opening of Enduring Love but also evident here as Clive observes a woman being accosted by a rapist, and as Vernon watches a TV interview that signals the end of his career) are undiminished. But when, in the last third of the book, McEwan manipulates the plot to achieve a less than credible symmetry, it is obvious that, despite the Booker recognition, this is far from McEwan's best novel. That said, however, it will undoubtedly hit the bestseller charts, for McEwan, even when not quite at the top of his form, is a writer of compelling gifts. Major ad/promo; author tour. (Dec.) (c) Copyright PWxyz, LLC. All rights reserved
(c) Copyright PWxyz, LLC. All rights reserved
Book list This darkly comic meditation on friendship, loyalty, the creative process, morality, ethics, and revenge is this year's winner of the Booker Prize. It is a novel that successfully merges sarcasm and wit in a narrative that takes its own cynicism for granted. The story begins, appropriately, at a crematorium where friends and family have come to pay their final respects to Molly Lane. Among the mourners are two of Molly's oldest friends (and former lovers), Clive Linley, a celebrated composer now working on the heralded Millennial Symphony, and Vernon Halliday, editor of The Judge, a newspaper whose declining circulation may doom it to oblivion. In addition to the connection with Molly, their own friendship goes back 30 years. Also present are Julian Garmony, another of Molly's former lovers and a right-wing foreign secretary who stands for everything Clive and Vernon oppose, and George Lane, Molly's wealthy husband, whom they despise out of hand. Things heat up when George, who owns a small percentage of The Judge, informs Vernon that he now possesses some compromising photographs of Garmony that Molly had taken. Sensing a boost to The Judge's circulation, Vernon struggles to manipulate the editorial board to his way of thinking. For moral support, he turns to Clive, who surprisingly opposes the photos' publication on the grounds that it will cheapen Molly's memory. They quarrel bitterly and thus begins the end of their friendship. Clive, who has been having his own problems completing the symphony, decides a hiking trip to the Lake District will free up his creative juices. It does, but when he witnesses a crime, he heads the other way rather than interrupt his composition. Seemingly a little hurried, it all culminates in a macabre denouement in the enlightened city of Amsterdam. --Frank Caso
From Booklist, Copyright © American Library Association. Used with permission.
Library Journal Funerals are dreary enough affairs, but Molly's is particularly unpleasant; her former lovers hover like vultures, ready to tear one another apart. Thanks to Molly?or rather to Molly's stuffy husband, made fun of by everyone but slick enough to get the last laugh?self-absorbed newspaper editor Vernon is about to get some scandalous goods on foreign secretary Julian Garmony, an evil family-rights type. But friend Clive, a composer of impeccable tastes, disgustedly thinks that Vernon is taking adavantage of Molly's memory, and Vernon is equally disgusted that Clive was so wrapped up with the final movement of his symphony that he failed to intervene in a potential rape. Their conflict proves quite literally fatal. McEwan has written a tastily vicious tale in his usual polished prose, but this time he risks too much and goes over the top. The whole affair seems a bit one-note and mean-spirited, and the maccabre ending in Amsterdam is not persuasive. This won the Booker Prize, which helps explain why the pub date was pushed up from February to November, but McEwan's last one, Enduring Love (LJ 2/1/98), was a better, more textured book. [Preveiwed in Prepub Alert, LJ 10/1/98.]?Barbara Hoffert, "Library Journal" (c) Copyright 2010. Library Journals LLC, a wholly owned subsidiary of Media Source, Inc. No redistribution permitted.
(c) Copyright Library Journals LLC, a wholly owned subsidiary of Media Source, Inc. No redistribution permitted.