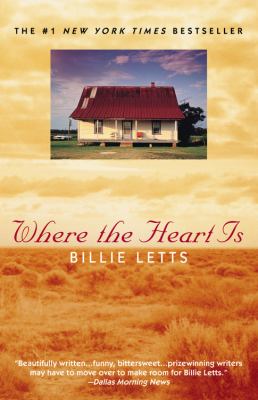 Where the Heart Is
by Billie Letts


Kirkus A debut novel whose rose-colored glasses yield a happy-go- lucky portrait of the down-home lives of uneducated poor folks in Sequoyah, Oklahoma. Letts's determinedly optimistic novel portrays a world where all races coexist harmoniously, and where the splintery realities of American rural life--poverty, teen pregnancy, single motherhood, homelessness, child sexual abuse--are palatably presented beneath a thick coat of Brothers Grimm varnish. It all begins when Novalee Nation, 17, pregnant, and heading west in an old Plymouth, is abandoned en route by good-for-nothing boyfriend Willy Jack Pickens in a Wal-Mart parking lot. Not disturbed by this momentary setback, Novalee quickly befriends the local color: Sister Husband, an AA- convert who hands out Xeroxed chapters of the Bible; Moses Whitecotton, descendant of slaves and an infant-portrait photographer; Benny Goodluck, a Native American nursery owner who gives Novalee a buckeye tree; and Forney Hull, the town librarian. Penniless, Novalee lives in Wal-Mart until the birth of her daughter (Americus) on the store's floor makes her a temporary celebrity. The story continues to track Novalee and her quest for roots, history, and home, depending primarily on the quirky tics of its characters for forward motion and throwing in the occasional tragedy to jump-start the plot (Americus' kidnapping, a tornado, a few untimely deaths). By the close, loose ends are neatly sewn up, unrequited loves requited, and the underlying theme--home is where the heart is--pounded home. A simple, lighthearted depiction of a rural America that's not: entertaining, good for a tear or two, but lacking in substance. (Film rights to 20th Century Fox)
Copyright © Kirkus Reviews, used with permission.
Book list The tribulations of 17-year-old Novalee Nation, daughter of the Tennessee trailer parks, make up a surprisingly long, none-too-subtle tale. The story opens with pregnant Novalee, abandoned by boyfriend Willie Jack Pickens, living in a small, dusty Oklahoma town's Wal-Mart. After she is discovered writhing in labor and rushed to the hospital, Sam Walton (Wal-Mart's late, billionaire owner) offers her a job. Conveniently, her housing dilemma is solved, too, when she moves in with the local eccentric with a heart-of-gold. The rest of the book (300-plus pages) follows the next five years in the lives of Novalee and her daughter. We meet more idiosyncratic yet lovable characters and learn the fate of Willie Jack. Although the book's emotional manipulation may be distasteful to some, others may find its soap-opera plot and Forrest Gump-ish optimism appealing. Film rights buyer 20th Century-Fox sure hopes so. --Kathleen Hughes
From Booklist, Copyright © American Library Association. Used with permission.
School Library Journal YA?Novalee Nation, 17 and pregnant, finds herself stranded outside a Wal-Mart in Sequoyah, Oklahoma, with $7.77 in her pocket and no one to turn to for help. This is an unlikely beginning for a humorous and hopeful novel, but that is just what this is. As she sits outside the store taking stock of her situation, plucky Novalee meets several of the town's more unusual inhabitants: Sister Husband, who presents her with a shop-worn welcome-wagon basket; black photographer Moses Whitecotton, who conveys to her the importance of a name for her unborn child; and Indian Benny Goodluck, who gives her a buckeye tree for good luck. These and other Sequoyah citizens rally around Novalee when she has her baby on the floor of Wal-Mart, and form the basis for this most enjoyable novel.?Pamela B. Rearden, Centreville Regional Library, Fairfax County, VA (c) Copyright 2010. Library Journals LLC, a wholly owned subsidiary of Media Source, Inc. No redistribution permitted.
(c) Copyright Library Journals LLC, a wholly owned subsidiary of Media Source, Inc. No redistribution permitted.
Publishers Weekly Readers immersed in the offbeat world of Letts's lively, affecting first novel will forgive its occasional forced quirkiness. For 17-year-old Novalee Nation, seven months pregnant, the phrase ``home is where your history begins'' has a special meaning. Leaving behind a trail of foster homes in Tennessee trailer parks to live in a real house with her boyfriend, Willy Jack Pickens, Novalee instead finds herself abandoned in front of a Wal-Mart in Sequoyah, Okla. With nowhere to turn, she cleverly conceals herself within the store, keeping careful accounts until giving birth to the ``Wal-Mart baby'' turns her into a local celebrity. Happily, the community reaches out to Novalee and baby Americus. Sequoyah's one-woman welcoming committee, Sister Husband, takes them in; cultured librarian Forney Hull takes a shine to them; photographer Moses Whitecotton encourages Novalee's raw talent for photography by teaching her all he knows; Lexie Coop, who has a huge appetite for food, diet fads and the wrong men, befriends her; and legendary Wal-Mart founder Sam Walton gives her a job. Meanwhile, Willy Jack, an aspiring musician, gets a shot at the big time before hitting bottom and realizing what he's left behind. Letts's wacky characters are depicted with humor and hope, as well as an earnestness that rises above the story's uneven conceits, resulting in a heartfelt and gratifying read. Film rights sold to 20th Century Fox. (July) (c) Copyright PWxyz, LLC. All rights reserved
(c) Copyright PWxyz, LLC. All rights reserved