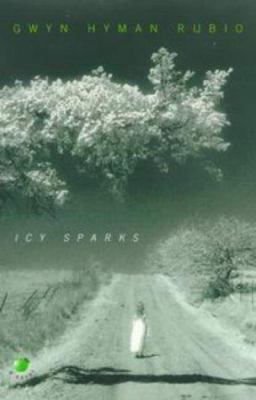 Icy Sparks
by Gwyn Hyman Rubio


Publishers Weekly The diagnosis of Tourette's Syndrome isn't mentioned until the last pages of Rubio's sensitive portrayal of a young girl with the disease. Instead, Rubio lets Icy Sparks tell her own story of growing up during the 1950s in a small Kentucky town where her uncontrollable outbursts make her an object of fright and scorn. "The Saturday after my [10th] birthday, the eye blinking and poppings began.... I could feel little invisible rubber bands fastened to my eyelids, pulled tight through my brain and attached to the back of my head," says Icy, who thinks of herself as the "frog child from Icy Creek." Orphaned and cared for by her loving grandparents, Icy weathers the taunts of a mean schoolteacher and, later, a crush on a boy that ends in disappointment. But she also finds real friendship with the enormously fat Miss Emily, who offers kindness and camaraderie. Rubio captures Icy's feelings of isolation and brings poignancy and drama to Icy's childhood experiences, to her temporary confinement in a mental institution and to her reluctant introduction?thanks to Miss Emily and Icy's grandmother?to the Pentecostal church through which she discovers her singing talent. If Rubio sometimes loses track of Icy's voice, indulges in unconvincing magical realism and takes unearned poetic license with the speech of her Appalachian grandparents ("`Your skin was as cold as fresh springwater, slippery and strangely soothing to touch'"), her first novel is remarkable for its often funny portrayal of a child's fears, loves and struggles with an affliction she doesn't know isn't her fault. Agent, Susan Golomb; editor, Jane von Mehren. (Aug.)
Copyright © Reed Business Information, a division of Reed Elsevier Inc. All rights reserved.
Library Journal Kentucky writer Rubio's big-hearted first novel features Icy Sparks, a brave and lovable child with Tourette Syndrome. Her involuntary twitches, eye poppings, and repetitions isolate her from the life of her Appalachian community. She is hospitalized for several months and finally receives the correct diagnosis, and under the care of a kindly doctor she learns techniques to reduce the severity of her symptoms. Her loving grandparents and the friendship of the hugely fat Miss Emily, also isolated by her difference, sustain her for five years. During those years Miss Emily teaches her what she will need to know for college. By the end of those years Icy has learned to manage her disability and has used her pain and loneliness to grow into a wonderful young woman. In refusing defeat, she wins the love and respect of the reader. For all collections where there are tender hearts.?Judith Kicinski, Sarah Lawrence Coll. Lib., Bronxville, NY
Copyright © Reed Business Information, a division of Reed Elsevier Inc. All rights reserved.
Book list Growing up in a small town in Kentucky, young Icy Sparks is set apart from her classmates by her weird mannerisms and strange noises. Not until she becomes an adult does Icy learn that her tics, croaks, and groans are all part of Tourette's syndrome, a neurological disease of which few people in the 1950s were aware. As a child, Icy suffers through taunts and mockery by her classmates. Even the adults closest to her--her loving grandparents who raise her, her school principal, and her despicable fourth-grade teacher--view her with alarm. Icy is sent to a children's asylum, where doctors try to discover the cause of her disease. While she is in the asylum, Icy begins to see beyond her own differences to the sufferings of others far worse off than she. Although many of the characters in this first novel are portrayed so simplisticly that they are either very good or unbelievably bad, this is a fast-moving and enjoyable narrative. A good choice for public libraries. --Nancy Pearl
From Booklist, Copyright © American Library Association. Used with permission.