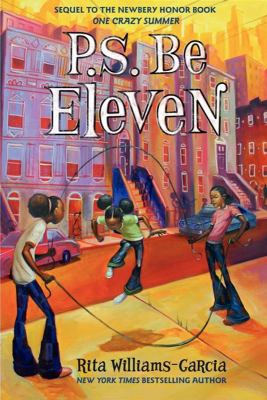 PS Be Eleven
by Rita Williams Garcia


Book list *Starred Review* The Gaither sisters Delphine, Vonetta, and Fern are newly returned from a summer spent in California with their mother, Cecile, and the Black Panthers (One Crazy Summer, 2010). But life in Bed-Stuy, Brooklyn, with Big Ma and Pa is nothing like the freedom of Oakland, even if the girls carry back independent streaks. And while their summer may have been crazy, autumn is not exactly tame: Pa's wearing cologne and whistling now that he has a girlfriend; Uncle Darnell's back from Vietnam but sleeps a lot; and sixth grade has a new Zambian exchange teacher, Mr. Mwilla. Delphine speaks her worried mind in letters to Cecile, who always adds a postscript, reminding Delphine to Be Eleven and not a grown-up. (This makes for a nice recurring sentiment, if a somewhat clunky title.) Set against the tumultuous, yet vibrant, backdrop of the late 1960s as Nixon campaigns against Humphrey and the Jackson Five are poised to play Madison Square Garden the story is vividly narrated by Delphine, who reluctantly learns to ease control over her sisters and comes to a tough realization: Twelve makes you know better than to wish for things that only eleven would wish hard for. Even without the dynamic Black Panther characters, this soars as a finely drawn portrait of a family in flux and as a memorable slice of a specific time in our nation's history. HIGH-DEMAND BACKSTORY: Williams-Garcia's One Crazy Summer (2010) won the Newbery Honor and the Coretta Scott King Award and was a National Book Award finalist. A robust marketing campaign includes author appearances.--Kelley, Ann Copyright 2010 Booklist
From Booklist, Copyright © American Library Association. Used with permission.
School Library Journal Gr 4-7-After their life-changing summer in Oakland with their poet-activist mother, related in One Crazy Summer (HarperCollins, 2010), sisters Delphine, Vonetta, and Fern find it difficult to readjust to life in Brooklyn. In addition to their grandmother's strict expectations, the girls must navigate the return of their uncle from Vietnam, their father's new romantic relationship, and their own uncontrollable love for the Jackson Five. Delphine finds some solace in corresponding with her mother, who reminds her not to take on too much or try to grow up too fast; instead she should remember to be 11. But each adult in Delphine's life has a different idea of what that means. Over the course of the book, Delphine strives to balance these conflicting perspectives and to articulate her own beliefs. From the very start of the story, her well-realized voice pulls readers into her rapidly changing world. Williams-Garcia ably integrates historical information with Delphine's story. Even secondary characters are complex and her nuanced understanding of the 1960s brings the setting to life. P.S. Be Eleven is a must-read for fans of the first book, but it can also stand alone as an engrossing novel that will leave readers pondering important issues of race, gender, and identity.-Gesse Stark-Smith, Multnomah County Library, Portland, OR (c) Copyright 2013. Library Journals LLC, a wholly owned subsidiary of Media Source, Inc. No redistribution permitted.
(c) Copyright Library Journals LLC, a wholly owned subsidiary of Media Source, Inc. No redistribution permitted.
Publishers Weekly Delphine and her sisters return to Brooklyn from visiting their estranged mother, Cecile, a poet who sent them off every day to a camp run by the Black Panthers in Williams-Garcia's Newbery Honor-winning One Crazy Summer. It wasn't the California vacation they expected, but the experience rocked their world. Big Ma, their grandmother, is no longer just a stern taskmaster, she's an oppressor. Delphine, who again narrates, loses interest in magazines like Tiger Beat and Seventeen: "When there's Afros and black faces on the cover, I'll buy one," she tells a storeowner. Reflecting society at large in 1968, change and conflict have the Gaither household in upheaval: Pa has a new girlfriend, Uncle Darnell returns from Vietnam a damaged young man, and the sixth-grade teacher Delphine hoped to get has been replaced by a man from Zambia. Though the plot involves more quotidian events than the first book, the Gaither sisters are an irresistible trio. Williams-Garcia excels at conveying defining moments of American society from their point of view-this is historical fiction that's as full of heart as it is of heartbreak. Ages 8-12. (June) (c) Copyright PWxyz, LLC. All rights reserved.
(c) Copyright PWxyz, LLC. All rights reserved