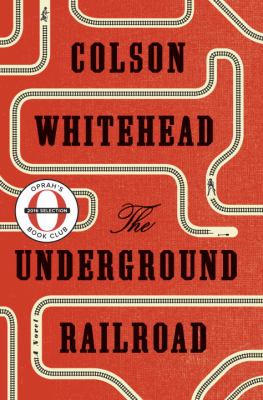 The Underground Railroad
by Colson Whitehead


Publishers Weekly Audiobook fans will certainly not be disappointed by versatile actor Turpin's performance of Whitehead's powerful historical novel, which tells the story of Cora, a teenage slave girl who lives on a cotton plantation in 1850s Georgia. After several public whippings by the plantation's new owner, she decides to flee north on the Underground Railroad. Turpin manages to shift between the ages, races, and accents of the large cast of characters with remarkable ease. Her turn as Cora mesmerizes with its display of conflicting emotions and attachments. Yet she is equally gifted in her depiction of white slave catcher Ridgeway, Cora's longtime nemesis, whose cruelty is made all the more chilling given his curious eccentricities. Turpin takes great pains to handle the nuances of dialect without resorting to caricature. A Doubleday hardcover. (Aug.) © Copyright PWxyz, LLC. All rights reserved.
(c) Copyright PWxyz, LLC. All rights reserved
Publishers Weekly Each thing had a value.... In America the quirk was that people were things." So observes Ajarry, taken from Africa as a girl in the mid-18th century to be sold and resold and sold again. She finally arrives at the vicious Georgia plantation where she dies at the book's outset. After a lifetime in brutal, humiliating transit, Ajarry was determined to stay put in Georgia, and so is her granddaughter, Cora. That changes when Cora is raped and beaten by the plantation's owner, and she resolves to escape. In powerful, precise prose, at once spellbinding and ferocious, the book follows Cora's incredible journey north, step by step. In Whitehead's rendering, the Underground Railroad of the early 19th century is a literal subterranean tunnel with tracks, trains, and conductors, ferrying runaways into darkness and, occasionally, into light. Interspersed throughout the central narrative of Cora's flight are short chapters expanding on some of the lives of those she encounters. These include brief portraits of the slave catcher who hunts her, a doctor who examines her in South Carolina, and her mother, whose escape from the plantation when Cora was a girl has both haunted and galvanized her. Throughout the book, Cora faces unthinkable horrors, and her survival depends entirely on her resilience. The story is literature at its finest and history at its most barbaric. Would that this novel were required reading for every American citizen. Agent: Nicole Aragi, Aragi Inc. (Sept.) © Copyright PWxyz, LLC. All rights reserved.
(c) Copyright PWxyz, LLC. All rights reserved
Library Journal Pulitzer Prize finalist Whitehead (John Henry Days) here telescopes several centuries' worth of slavery and oppression as he puts escaped slaves Cora and Caesar on what is literally an underground railroad, using such brief magical realist touches to enhance our understanding of the African American experience. Cora, an outsider among her fellow slaves since her mother's escape from a brutal Georgia plantation, is asked by new slave Caesar to join his own escape effort. He knows a white abolitionist shopkeeper named Fletcher with connections to the Underground Railroad, and as they flee to Fletcher's house, Cora saves them from capture with an act of violence that puts them in graver danger. "Who built it?" asks Caesar wonderingly of the endless tunnel meant to carry them to freedom. "Who builds anything in this country?" replies the stationmaster, clarifying how much of America rests on work by black hands. The train delivers Cora and Caesar to a seemingly benevolent South Carolina, where they linger until learning of programs that recall the controlled -sterilization and Tuskegee experiments of later years. Then it's onward, as Whitehead continues ratcheting up both imagery and tension. VERDICT A highly recommended work that raises the bar for fiction addressing slavery. [See Prepub Alert, 3/7/16.]-Barbara Hoffert, -Library Journal © Copyright 2016. Library Journals LLC, a wholly owned subsidiary of Media Source, Inc. No redistribution permitted.
(c) Copyright Library Journals LLC, a wholly owned subsidiary of Media Source, Inc. No redistribution permitted.
Book list *Starred Review* Over the course of his previous five novels, Whitehead (Zone One, 2011) has conducted an imaginative, droll, and eviscerating inquiry into the blurred divide between American mythology and American history, especially the camouflaged truth about racism. In this magnetizing and wrenching saga, Whitehead tells the story of smart and resilient Cora, a young third-generation slave on a Georgia cotton plantation where she has been brutally attacked by whites and blacks. Certain that the horror will only get worse, she flees with a young man who knows how to reach the Underground Railroad. Everything Whitehead describes is vividly, often joltinglyrealistic, even the novel's most fantastic element, his vision of this secret transport network as an actual railroad running through tunnels dug beneath the blood-soaked fields of the South, a jolting and resounding embodiment of heroic efforts and colossal risks. Yet for all that sacrifice and ingenuity, freedom proves miserably elusive. A South Carolina town appears to be welcoming until Cora discovers that it is all a facade, concealing quasi-medical genocidal schemes. With a notoriously relentless slave catcher following close behind, Cora endures another terrifying underground journey, arriving in North Carolina, where the corpses of tortured black people hang on the trees along a road whites call the Freedom Trail. Each stop Cora makes along the Underground Railroad reveals another shocking and malignant symptom of a country riven by catastrophic conflicts, a poisonous moral crisis, and diabolical violence. Each galvanizing scene blazes with terror and indictment as Whitehead tracks the consequences of the old American imperative to seize, enslave, and profit. Stolen bodies working stolen land. It was an engine that did not stop, its hungry boiler fed with blood. With each compelling character, some based on historical figures, most born of empathic invention, Whitehead takes measure of the personal traumas and mass psychosis that burn still within our national consciousness. Hard-driving, laser-sharp, artistically superlative, and deeply compassionate, Whitehead's unforgettable odyssey adds a clarion new facet to the literature of racial tyranny and liberation.--Seaman, Donna Copyright 2016 Booklist
From Booklist, Copyright © American Library Association. Used with permission.
Library Journal Cora, a slave on a plantation in Georgia, seeks her freedom on a demimythical version of the underground railroad. The railroad is portrayed quite literally, and -Cora's journey encapsulates the struggle for emancipation and civil rights and against Jim Crow and segregation, all of which is symbolized by the societies of the various states in which her train stops. As she travels, Cora's identity evolves from outcast to object to secret sin to prisoner and, finally, to a member of a community. She is pursued by slave catcher Ridgeway as one by one her allies and friends are taken from her in violence and blood. Whitehead's characters bridge the symbolism the story demands and the realism of complicated people. Narrator Bahni Turpin is able to differentiate among the many characters and lends a flowing cadence to the dark and savage tale. -Verdict A powerful story both of a woman and of a people. Highly recommended for readers of literary fiction, historical fiction, American history, and African American literature. ["A highly recommended work that raises the bar for fiction addressing slavery": LJ 7/16 starred review of the Knopf hc.]-Tristan M. Boyd, Austin, TX © Copyright 2016. Library Journals LLC, a wholly owned subsidiary of Media Source, Inc. No redistribution permitted.
(c) Copyright Library Journals LLC, a wholly owned subsidiary of Media Source, Inc. No redistribution permitted.