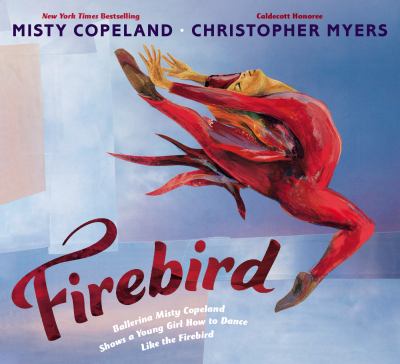 Firebird
by Christopher Myers


School Library Journal Gr 2-6-A poetic dialogue between an aspiring young dancer and the American Ballet Theater's soloist comprises the text of this stunning picture book. Copeland provides words of encouragement to boost the dreams of an African American girl whose desire to be a ballerina is hampered by her low self-image and lack of confidence. "I was a dancer just like you," Misty tells her, "a dreaming shooting star of a girl/with work and worlds ahead." Copeland's title role in Stravinsky's The Firebird serves as the theme for Myers's signature paint and collage illustrations, which feature full spreads bursting with color and excitement. Elongated forms and slanted geometric shapes are infused with a color palette of browns, yellows, and fiery reds contrasted with cool blues, purples, and splashes of white. Scenes of dynamic action and quiet serenity work together to move the narrative forward, leaving readers with a sense of hope for the future of the young dancer. The author includes a note that discusses her own struggle and need for affirmation, acknowledging those who helped her along the way. A very successful collaboration, appealing to all and particularly valuable to collections on the performing arts.-Marie Orlando, formerly at Suffolk Cooperative Library System, Bellport, NY (c) Copyright 2012. Library Journals LLC, a wholly owned subsidiary of Media Source, Inc. No redistribution permitted.
(c) Copyright Library Journals LLC, a wholly owned subsidiary of Media Source, Inc. No redistribution permitted.
Book list This vibrant picture book creates a conversation between two African American dancers, a girl who aspires to become a ballerina and American Ballet Theatre soloist Misty Copeland. Keenly aware of her shortcomings as a dancer, the girl admires Copeland, saying, you are the sky and clouds and air / your feet are swift as sunlight, while describing herself in these words: Me? I'm gray as rain / heavy as naptime, low as a storm pressing on rooftops. Copeland answers by looking back to her own beginnings as a girl learning her craft during countless hard, sweaty hours of practice. Throughout the poetic text, she offers encouragement and inspiration to the aspiring ballerina. Myers contributes a series of dynamic illustrations. Combining painted, printed, and photographed elements, these collages make fine use of color and texture. In an author's note, Copeland comments on her discovery of ballet, her appreciation of the women who mentored her, and her hope of empowering others to feel that they can achieve their goals. An inspirational picture book for children daunted by the gap between their dream and their reality. HIGH-DEMAND BACKSTORY: Copeland's adult memoir, Life in Motion (2014), has become a New York Times best-seller, so there will be built-in interest for her children's book debut.--Phelan, Carolyn Copyright 2010 Booklist
From Booklist, Copyright © American Library Association. Used with permission.