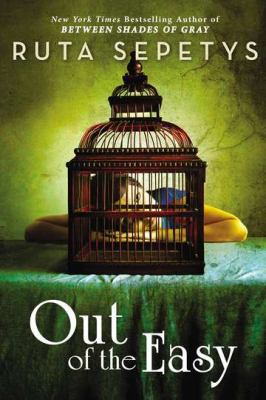 Out of the Easy
by Ruta Sepetys


School Library Journal Gr 9 Up-Against a vivid 1950s New Orleans backdrop, 17-year-old Josie Moraine is caught between the harsh reality of her negligent, prostitute mother's lifestyle and her desire to escape to a new life. Josie is smart, resourceful, and determined. Her support group includes Willie, the shrewd brothel madam who recognizes Josie's potential; Cokie, Willie's kind and devoted driver; Patrick, who runs the bookshop where Josie works; Charlotte, an upscale acquaintance who encourages Josie to join her at Smith College; and Jesse, the handsome motorcyclist neighbor who has eyes only for Josie. When a mysterious death leads police to Josie's mother and abusive boyfriend, the teen is drawn into the investigation and into an underworld of threats, violence, and retribution. After her mother skips town, Josie is targeted to repay her debt to a powerful criminal boss. As she tries to handle mounting adversity on her own, she struggles with fear, desperation, and her conscience. Stealing from Willie or hooking up with a wealthy john seem her only choices for survival. Overwhelmed, she reveals her predicament to Willie, who saves her in a final act of generosity. Josie's narrative features a Dickensian array of characters; the mystique, ambience, and language of the French Quarter; a suspenseful, action-packed story; and a coming-of-age realization that personal decisions ultimately shape one's future. With dramatic and contextual flair, Sepetys introduces teens to another memorable heroine.-Gerry Larson, formerly at Durham School of the Arts, NC (c) Copyright 2013. Library Journals LLC, a wholly owned subsidiary of Media Source, Inc. No redistribution permitted.
(c) Copyright 2010. Library Journals LLC, a wholly owned subsidiary of Media Source, Inc. No redistribution permitted.
Publishers Weekly Sepetys follows her debut, Between Shades of Gray, with another taut and charged historical novel, though the setting-the French Quarter of New Orleans in 1950-is a world apart from that of her previous book. Living and working in a bookshop, 17-year-old Josie Moraine dreams of attending college-anything to get away from her mother, a prostitute with Hollywood dreams and a knack for getting involved with the worst men. When Josie becomes involved in a high-profile murder investigation, she becomes even more entrenched in her circumstances. The sensual yet rigidly class-based setting is a real standout, and Sepetys has also built a stellar cast, which includes Willie, a strident but generous madam; Charlie Marlowe, the bookshop's owner; and a pair of potential love interests for Josie. Readers will find Josie irresistible from the get-go ("The only reason I'd lift my skirt is to pull out my pistol and plug you," she tells a guy early on) and will devour the sultry mix of mystery, historical detail, and romance. Ages 14-up. Agent: Writers House. (Feb.)? (c) Copyright PWxyz, LLC. All rights reserved.
(c) Copyright PWxyz, LLC. All rights reserved
Book list In a radical departure from her first novel, Between Shades of Gray (2011), Sepetys' second is partially set in a 1950s New Orleans brothel where Josie's mother works as a prostitute. Humiliated, the 18-year-old fears she is destined for nothing more than a crummy life skirting the New Orleans underworld. That underworld looms larger when a murder occurs and it appears Josie's mother may be complicit. Josie's dream is to go to Smith College, but even if she is admitted, how will she pay for it? Meanwhile, she finds herself attracted to two very different young men: her best friend, clean-cut Patrick, with whom she works at his father's bookstore, and quietly mysterious biker Jesse. Complicated? You bet! Sepetys' latest strongly evokes 1950s radio soap operas, but despite over-the-top emotional pitch and stereotypical characters, this is nevertheless a page-turner that noir romance fans will gobble up like popcorn shrimp. HIGH-DEMAND BACKSTORY: The legions of fans that Sepetys earned with her best-selling debut novel will all be lining up for this.--Cart, Michael Copyright 2010 Booklist
From Booklist, Copyright © American Library Association. Used with permission.