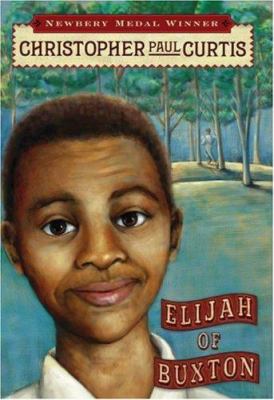 Elijah of Buxton
by Christopher Paul Curtis


Book list *Starred Review* After his mother rebukes him for screaming that hoop snakes have invaded Buxton, gullible 11-year-old Elijah confesses to readers that there ain't nothing in the world she wants more than for me to quit being so doggone fra-gile. Inexperienced and prone to mistakes, yet kind, courageous, and understanding, Elijah has the distinction of being the first child born in the Buxton Settlement, which was founded in Ontario in 1849 as a haven for former slaves. Narrator Elijah tells an episodic story that builds a broad picture of Buxton's residents before plunging into the dramatic events that take him out of Buxton and, quite possibly, out of his depth. In the author's note, Curtis relates the difficulty of tackling the subject of slavery realistically through a child's first-person perspective. Here, readers learn about conditions in slavery at a distance, though the horrors become increasingly apparent. Among the more memorable scenes are those in which Elijah meets escaped slaves first, those who have made it to Canada and, later, those who have been retaken by slave catchers. Central to the story, these scenes show an emotional range and a subtlety unusual in children's fiction. Many readers drawn to the book by humor will find themselves at times on the edges of their seats in suspense and, at other moments, moved to tears. A fine, original novel from a gifted storyteller.--Phelan, Carolyn Copyright 2007 Booklist
From Booklist, Copyright © American Library Association. Used with permission.
Publishers Weekly Elijah Freeman, 11, has two claims to fame. He was the first child "born free" to former slaves in Buxton, a (real) haven established in 1849 in Canada by an American abolitionist. The rest of his celebrity, Elijah reports in his folksy vernacular, stems from a "tragical" event. When Frederick Douglass, the "famousest, smartest man who ever escaped from slavery," visited Buxton, he held baby Elijah aloft, declaring him a "shining bacon of light and hope," tossing him up and down until the jostled baby threw up-on Douglass. The arresting historical setting and physical comedy signal classic Curtis (Bud, Not Buddy), but while Elijah's boyish voice represents the Newbery Medalist at his finest, the story unspools at so leisurely a pace that kids might easily lose interest. Readers meet Buxton's citizens, people who have known great cruelty and yet are uncommonly polite and welcoming to strangers. Humor abounds: Elijah's best friend puzzles over the phrase "familiarity breeds contempt" and decides it's about sexual reproduction. There's a rapscallion of a villain in the Right Reverend Deacon Doctor Zephariah Connerly the Third, a smart-talking preacher no one trusts, and, after 200 pages, a riveting plot: Zephariah makes off with a fortune meant to buy a family of slaves their freedom. Curtis brings the story full-circle, demonstrating how Elijah the "fra-gile" child has become sturdy, capable of stealing across the border in pursuit of the crooked preacher, and strong enough to withstand a confrontation with the horrors of slavery. The powerful ending is violent and unsettling, yet also manages to be uplifting. Ages 9-12. (Oct.) Copyright 2007 Reed Business Information.
Copyright © Reed Business Information, a division of Reed Elsevier Inc. All rights reserved.
School Library Journal Gr 4-8-Eleven-year-old Elijah Freeman has two claims to fame: he was the first free black to have been born in Buxton, an actual settlement in Canada established in 1849 by the abolitionist Reverend William King; and, during his infancy, he threw up all over the visiting Frederick Douglass. Elijah is an engaging protagonist, and whether he is completing his chores or lamenting his Latin studies or experiencing his first traveling carnival, his descriptions are full of charm and wonder. Although his colloquial language may prove challenging for some readers, it brings an authenticity and richness to the story that is well worth the extra effort that it might require. While some of the neighbors believe Elijah to be rather simple, and even his mother tends to overprotect her "fra-gile" boy, his true character shines out when a disaster occurs in the close community. Elijah's neighbor, Mr. Leroy, has been saving money for years to buy freedom for his wife and children who are still in the U.S. When this money is stolen, Elijah blames himself for inadvertently helping the thief and, risking capture by slave catchers, crosses the border into Detroit to get it back. His guileless recounting of the people he meets and the horrors he sees will allow readers to understand the dangers of the Underground Railroad without being overwhelmed by them. Elijah's decisions along the way are not easy ones, but ultimately lead to a satisfying conclusion. Curtis's talent for dealing with painful periods of history with grace and sensitivity is as strong as ever.-Kim Dare, Fairfax County Public Schools, VA Copyright 2007 Reed Business Information.
Copyright © Reed Business Information, a division of Reed Elsevier Inc. All rights reserved.