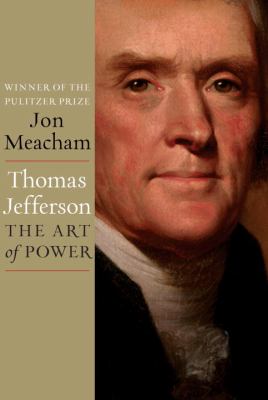 Thomas Jefferson: The Art of Power
by Jon Meacham


Library Journal Pulitzer Prize-winner Meacham (executive editor & executive vice president, Random House; American Lion: Andrew Jackson in the White House) claims that previous Jefferson scholars have not grasped the authentic Jefferson. Meacham unmasks a power-hungry, masterful, pragmatic leader who was not above being manipulative to achieve his goal: an enduring, democratic republic defined by him. A brilliant philosopher whose lofty principles were sometimes sidelined for more realistic goals, Meacham's Jefferson, neither idol nor rogue, is a complex mortal with serious flaws and contradictions. Despite his dedication to human liberty, he would not impose practical measures to end slavery. Here, Jefferson's political instincts trumped his moral and philosophical beliefs, and he lived uncomfortably with that contradiction, believing that slavery would eventually end but unable to create a balance between human freedom and political unity. Meacham believes that what some recent writers have viewed as hypocrisy was actually genius. Failing to solve the conundrum of slavery, Jefferson creatively and successfully applied power, flexibility, and compromise in an imperfect world. VERDICT General and academic readers will find a balanced, engaging, and realistic treatment of the forces motivatingthe third President, the subject of unending fascination and debate. [See Prepub Alert, 5/10/12.]-Margaret Kappanadze, Elmira Coll. Lib., NY (c) Copyright 2012. Library Journals LLC, a wholly owned subsidiary of Media Source, Inc. No redistribution permitted.
(c) Copyright Library Journals LLC, a wholly owned subsidiary of Media Source, Inc. No redistribution permitted.
Publishers Weekly Another Jefferson biography (right on the heels of Henry Wiencek's Master of the Mountain)! Fortunately, Meacham's is a fine work, deserving a place high on the list of long biographies of its subject even if rivaled by such shorter ones as Richard B. Bernstein's Thomas Jefferson. Like David McCullough's John Adams (to which it can be seen as a counterpart), Meacham's book is a love letter to its subject. While he's fully conversant with long-held skepticism about aspects of Jefferson's character (his dissimulation, for instance) and his stance toward slavery, Meacham gives him the benefit of the doubt throughout (on, for example, his Revolutionary War governorship of Virginia and the draconian 1807 embargo). To Meacham, who won a Pulitzer for his American Lion, Jefferson was a philosopher/politician, and "the most successful political figure of the first half century of the American republic." Those words only faintly suggest the inspirational tone of the entire work. Meacham understandably holds Jefferson up as the remarkable figure he was. But in the end, as fine a rendering of the nation's third president as this book may be, it comes too close to idolization. Jefferson's critics still have something valid to say, even if their voices here are stilled. Agent: Amanda Urban, ICM. (Nov.) (c) Copyright PWxyz, LLC. All rights reserved.
(c) Copyright PWxyz, LLC. All rights reserved
Book list *Starred Review* Of the Founding Fathers, Washington remains unassailable in terms of character and leadership. Jefferson, on the other hand, has taken and continues to take hits from historians concerning his seeming hypocrisy in advocating the fundamental right of personal liberty. Meacham, Pulitzer Prize-winning author of American Lion (2008), a fresh estimation of Andrew Jackson, brings to bear his focused and sensitive scholarship, rich prose style, and acute sense of the need to ground his subject in time and place and observe him in his natural habitat. He must be seen in context, Meacham insists. The Jefferson that emerges from these astute, dramatic pages is a figure worthy of continued study and appreciation. He thirsted for power and greatness, but and this defines a consummate politician he understood that his goals could be achieved only by compromise. The survival of the American experiment in democracy was his abiding concern throughout his political career. Meacham carefully squares that with Jefferson's thinking about slavery by, again, placing those opinions within the conditions of the day. The reader leaves this very impressive book having been plunged fully into the whole Revolutionary era specifically, having gained a valuable sense of the uncertainty of the independence movement. HIGH-DEMAND BACKSTORY: An extensive author tour and a national media campaign, as well as Meacham's reputation as the author of American Lion, will bring interested readers into the library.--Hooper, Brad Copyright 2010 Booklist
From Booklist, Copyright © American Library Association. Used with permission.