by Jennifer Weiner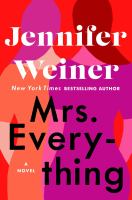 Library Journal
(c) Copyright Library Journals LLC, a wholly owned subsidiary of Media Source, Inc. No redistribution permitted.

The latest novel by New York Times best-selling Weiner (Good in Bed) follows Jo and Bethie Kaufman, Jewish sisters growing up in Detroit during the civil rights era. Jo is lean, sporty, and a constant source of worry for her traditionalist mother, whereas Bethie is beautiful and the near-perfect daughter. After the untimely death of their father, the girls enter adolescence and begin grappling with their identities, sexuality, and strict societal expectations. Jo seeks solace in her best friend and eventual same-sex lover, while Bethie starts down a destructive path, aided by a sexually abusive uncle. College brings experimentation with drugs, sex, and the fight for equality. The sisters continually come together and then break apart as they navigate life's vagaries for 60 years, all while searching for peace within themselves. VERDICT Not as strong as some of Weiner's previous works, this title struggles with continuity through its expansive time line. Readers may have trouble keeping up with the gaps. Nonetheless, it's a fascinating read that emphasizes the moments that define who you are. [See Prepub Alert, 12/17/18.]-Chelsie Harris, San Diego Cty. Lib. © Copyright 2019. Library Journals LLC, a wholly owned subsidiary of Media Source, Inc. No redistribution permitted.
---
Book list
From Booklist, Copyright © American Library Association. Used with permission.

Jo and Bethie Kaufman are as different as sisters can be. Jo is an athletic tomboy who can never be quite good enough for her mother. Bethie is adorable and perfect. As the story progresses from their childhood in a Detroit neighborhood in the 1950s to wild college days in the '60s, their roles reverse and evolve into something more complicated. Heartbroken Jo marries a likable enough man because she can't imagine a happy future with a woman. Bethie deals with trauma via drugs and grift until she lands at a commune in Georgia. In chronicling seven decades of the Jewish sisters' lives, Weiner (Who Do You Love, 2015) asks big questions about how society treats women in this slyly funny, absolutely engrossing novel that is simultaneously epic and intimate. Jo and Bethie's relationship eschews cliché in favor of the more mundane and more powerful reality that closeness ebbs and flows, and sometimes each sister is on her own to figure it out. Mrs. Everything will find equally eager readers in the beach bag and the book club.HIGH-DEMAND BACKSTORY: It's been a while since Weiner explored the complicated terrain of sisterhood, and readers will flock to this ambitious, nearly flawless novel.--Susan Maguire Copyright 2019 Booklist
---
Publishers Weekly
(c) Copyright PWxyz, LLC. All rights reserved

Bestseller Weiner brilliantly crafts this heartwrenching multigenerational tale of love, loss, and family, which is partly inspired by Little Women. As sisters Jo and Bethie Kaufman move into a new home in Detroit in 1951, they are excited by all of the possibilities it offers-then their beloved father dies. Bethie, the "perfect" child, is repeatedly molested by her father's younger brother, which drives her into an eating disorder and later into drug use. Jo, a daddy's girl who epically clashes with her mother, realizes early on that she prefers to date women, but after her girlfriend marries a man, Jo likewise finds a husband and bears three daughters. Eventually, both sisters follow their hearts, even when it's tremendously difficult. Weiner's talent for characterization, tight pacing, and detail will thrill her fans and easily draw new ones into her orbit. Her expert handling of difficult subjects-abortion, rape, and racism among them-will force readers to examine their own beliefs and consider unexpected nuances. Weiner tugs every heartstring with this vivid tale. Agent: Joanna Pulcini, Joanna Pulcini Literary. (June) © Copyright PWxyz, LLC. All rights reserved.