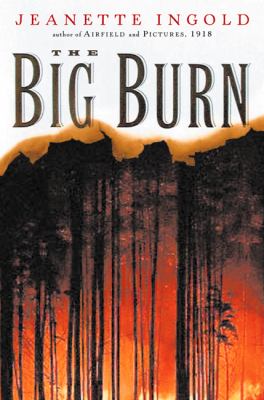 The Big Burn
by Jeanette Ingold


Publishers Weekly Ingold (Pictures, 1918) captures the momentum of a wildfire in this historical novel about "the big burn" that scorched millions of acres across Idaho and Montana in 1910. Against the atmospheric backdrop of beauty and devastation, each of three teens bravely battles the fire. As a member of the all-black infantry sent to help, Seth conquers his own insecurities; Jarrett, younger brother of a forest ranger, chooses to combat the blaze with the rough-and-tumble, ill-equipped hired crews; while Lizbeth and her guardian cousin reluctantly abandon their homestead, only to face the danger in town. Ingold intersperses the intersecting stories of the teenagers with "field notes" recorded by a ranger and a university professor; these slow the pace but offer illuminating background, including the contrast between the Indian tradition of setting controlled fires annually versus the government's belief that "the only safe way to control fire was to not let it burn in the first place." The narrative flags a bit a romance between Jarrett and Lizabeth never becomes as compelling as their individual struggles but on balance, the triumphs and casualties recounted here will heighten appreciation for the courage and sacrifice of firefighters and settlers; the book may be especially timely in light of this summer's runaway fires in the West. Ages 12-up. (June) Copyright 2002 Cahners Business Information.
Copyright © Reed Business Information, a division of Reed Elsevier Inc. All rights reserved.
School Library Journal Gr 7 Up-This exciting survival/adventure story is told ensemble-style. Bumbling Private Seth Brown of the all-black 25th infantry wonders if the Army will be as good to him as it was to his father. Lizbeth, 16, wants to stay on the homestead claimed by her 26-year-old aunt Celia, but Celia can't wait to return East. Jarrett Logan, 16, tossed out on his own by his gruff and demanding father, finds that being reunited with his older brother, a forest ranger, isn't much smoother. These threads become plausibly entwined as each short chapter gradually builds toward the climactic "perfect storm" of forest fires that raged in Idaho and surrounding states during the summer of 1910 and is known as the Big Burn. The author's frequent foreshadowing seems heavy-handed. Periodic "Field Notes" give authorial voice to background material that, while relevant, is clearly shown in the plot. Stereotyping the bad guy as having a scar and a crossed eye seems unnecessary. Excellent period vocabulary may send some readers to the dictionary. The round-robin plot construction keeps the pace moving effectively through the climactic scenes and the mostly predictable, satisfying resolutions that follow. An afterword notes that evidence of this fire remains visible today. The "Sources and Suggestions for Further Reading" section is excellent, subdivided by subject and including books, newspapers, and Internet resources.-Joel Shoemaker, Southeast Junior High School, Iowa City, IA Copyright 2002 Cahners Business Information.
Copyright © Reed Business Information, a division of Reed Elsevier Inc. All rights reserved.