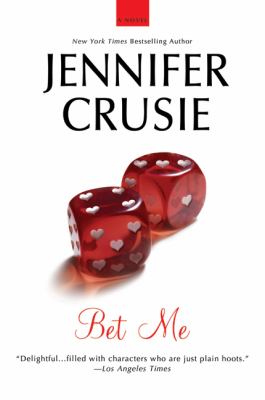 Bet Me
by Jennifer Crusie


Book list Minerva Dobbs thought David Fisk might be the one she's been waiting for, until he dumps her three weeks before her sister Diana's wedding. Min soon realizes just how lucky she is to be rid of David when she overhears him at her favorite bar betting a handsome stranger, Calvin Morrisey, that Cal couldn't bed Min in a month. At first Min debates the idea of giving them both a piece of her mind, but then she remembers she still needs a date for the wedding. Why not use the all-too charming Cal just like he was going to use her, and then dump him? Of course, Min never expected that Cal might turn out to be the "one." A sturdy statistician who thinks Elvis Presley is the only man worth waiting for discovers that fairy tales can come true if you are only willing to believe. New York Times best-selling Crusie maintains her winning streak in another wickedly witty, deliciously sexy contemporary romance. Finding exactly the right balance between cynicism and optimism, Crusie deftly blends snappy dialogue; quirky, irrepressible secondary characters; and two beautifully matched protagonists struggling against their romantic fate. --John Charles Copyright 2003 Booklist
From Booklist, Copyright © American Library Association. Used with permission.
Library Journal Though short on plot and completely lacking in suspense, Crusie's latest (after Faking It) is still an entertaining story featuring a cast of immensely appealing characters and smart dialog. Min is on the rebound from David and searching for a date to take to her sister's upcoming wedding; Cal is on the rebound from his last girlfriend, who was pressuring him to set a wedding date. From the first chapter, it's obvious that these two will meet, date, and fall in love, but it's their journey toward happily-ever-after that will keep readers turning pages. Of course, there are numerous hilarious complications along the way: Min's sister is having cold feet as her wedding day gets closer, Min's mother is next to impossible, and Min herself is having trouble fitting into her bridesmaid dress. When one of Cal's business partners falls hard for Min's best friend, the stage is set for a series of coincidences, each more outlandish than one can imagine, as Min and Cal are forced together with predictable results. For readers who can't bear for the story to conclude, Crusie even goes so far as to add an epilog that condenses the next 20 years in the lives of her characters. Enthusiastically recommended for most collections of contemporary romance and women's fiction.-Margaret Hanes, Sterling Heights P.L., MI Copyright 2003 Reed Business Information.
Copyright © Reed Business Information, a division of Reed Elsevier Inc. All rights reserved.
Publishers Weekly Minerva Dobbs's mother named her daughter after the Greek goddess. Yet Min, who's grown up to be a curvy woman who adores carbs, isn't quite a knockout beauty and, at 33, she shows no signs of getting married anytime soon. So when the dashingly handsome (god-like, in fact) Calvin Morrissey enters Min's life and starts pouring on the charm, she's skeptical. As well she should be-it appears Cal has a $10,000 bet with some of his drinking buddies that he can get Min into bed within a month. Statistics-loving Min knows about the bet and figures she can play Cal for a month, use him as a date for her sister's upcoming wedding and then dump him right before the month is up. Alas, destiny has different plans. As Min and Cal fall for each other, Crusie pulls out the pranks, repeatedly pushing the two together and then tearing them apart. A bubbly cast of characters alternately helps and hinders romance, including Cal's ex-girlfriend, a psychologist who studies relationships for a living; a matchmaking Italian chef; and Min's friend Liza, who'll stop at nothing to make sure Min doesn't wind up with the conniving Cal. It's all cutesy, corny, romantic fun, and Crusie (Fast Women; Faking It; etc.) has created a loveable character in Min. Although some readers will be sucked into Crusie's deliberate plot, others may cringe at its predictability. With multiple references to Chicken Marsala, Krispy Kreme donuts and Midwestern brats (a fine contrast to Min's compulsively thin-thinking mother), Crusie's latest should delight romance readers with a penchant for sinful foods. (On sale Feb. 10) Forecast: With ads running on television and in the New York Times and Glamour, a Book Sense mailing, advance reading excerpts distributed at regional trade shows and at RWA, plus a national author tour, Crusie's latest has a good shot at landing on bestseller lists. Copyright 2003 Reed Business Information.
Copyright © Reed Business Information, a division of Reed Elsevier Inc. All rights reserved.