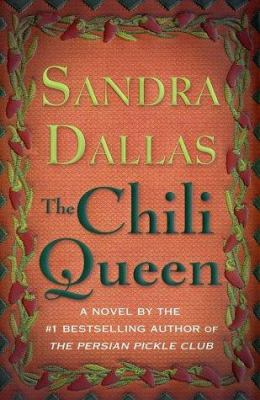 The Chili Queen
by Sandra Dallas


Book list The author tweaks the Western genre with her newest historical novel. Retired shortchange-artist-turned-madam Addie French meets Emma Roby, a meek and ladylike mail-order bride on the train to Nalgitas, New Mexico. Deserted at the train station by her groom, Emma makes her way to the Chili Queen, Addie's "boarding house." There Emma meets Welcome, the mysterious cook, and Ned Partner, an amiable and talented bank robber. At Addie's suggestion, Ned agrees to rob a local bank to avenge an insult made to Addie and takes Emma for his partner. The robbery ends with unexpected results, and the trio hatches another scheme to fleece Emma's brother out of his inheritance. The payoff from this last swindle will allow Addie to open a restaurant, Ned to buy a ranch, and Emma to live independently. Dallas fleshes out the kind of background characters found in a L'Amour or Grey novel with affection and zest. Sure to garner new fans and satisfy existing ones, this novel is recommended for all public library collections. Kaite Mediatore
From Booklist, Copyright © American Library Association. Used with permission.
Publishers Weekly A whorehouse madam, a bank robber, a mail-order bride and a former slave romp around 1860s New Mexico in this fifth novel from the author of The Persian Pickle Club. As she has before, Dallas weaves a beguiling plot and creates engaging characters and dialogue. The first part of the book is narrated by Addie French, a madam at the Chili Queen whorehouse, whose language is salted with colorful metaphors. "Some men liked scrawny women," she explains, "just as some men picked chicken wings over drumsticks." In the second section, the central figure is Ned Partner, a hunky bank robber and would-be rancher whose emotional innocence contrasts with his smooth ways in the bedroom and behind a gun. Next, there is Emma Roby, a mail-order bride with a secret past who is temporarily boarding at the Chili Queen, and finally Welcome, a former slave turned whorehouse cook. Because Emma and Welcome are not as well drawn, the closing chapters lose momentum; they are also glutted with backstory. When Dallas tries to cover subjects like sexual abuse and other types of violence, her light tone can't support the heavier themes. Still, the zesty, offbeat charm of life among these undesirables in the seedy West keeps this tale moving smartly. Literary Guild and Doubleday Book club alternate; 5-city author tour. (Sept.) Copyright 2002 Cahners Business Information.
Copyright © Reed Business Information, a division of Reed Elsevier Inc. All rights reserved.