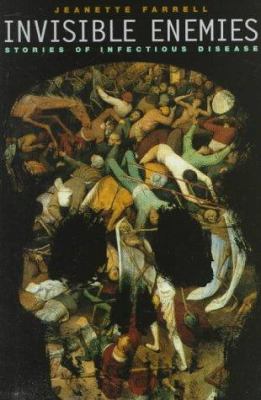 Invisible Enemies: Stories of Infectious Disease
by Jeanette Farrell


Book list Gr. 7^-12. From the jacket reproduction of a painting by Pieter Brueghel the Elder through the rich bibliography, this book illustrates the hope and confusion, the logic and paranoia that humankind has experienced when confronting terrifying diseases. Farrell's vivid prose, which occasionally flirts with melodrama, describes the cultural impact of diseases such as malaria, leprosy, tuberculosis, and AIDS, as she recreates the medical breakthroughs, the racial scapegoating, and the tremendous loss of life during the struggle to cope with and combat the illnesses. What makes this book particularly powerful is Farrell's gift for capturing the small moments that expose humanity's best and worst side: a medical pioneer tracing a town's cholera outbreak to a single water pump; the use of English orphans to test a smallpox inoculation before treating the royal family. Such examples make this fascinating reading as well as a revealing look at the intersection of science and social studies. --Randy Meyer
From Booklist, Copyright © American Library Association. Used with permission.
School Library Journal Gr 6 Up-Seven infectious diseases (smallpox, leprosy, plague, tuberculosis, malaria, cholera, and AIDS) are covered in this excellent book. For each one, the author highlights the causes of the affliction, the history of its treatment or lack thereof, popular notions and fears that have often led to additional suffering beyond the trauma caused by the illness, and the story of how breakthroughs came about (or what still needs to be done). Filled with fascinating facts, the text is written in a crisp and lucid style that makes the most complex matters understandable. Although this could easily be a dry subject, the author does such a wonderful job of presenting it that some chapters are as exciting as any work of fiction. The black-and-white photos and reproductions illuminate details about historical perceptions of the diseases. A riveting account.-Todd Morning, Schaumburg Township Public Library, IL
Copyright © Reed Business Information, a division of Reed Elsevier Inc. All rights reserved.