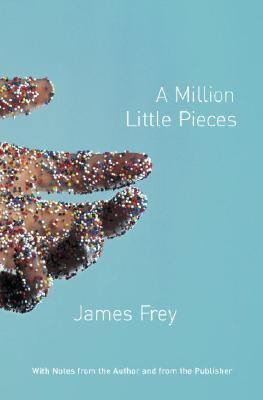 A Million Little Pieces
by James Frey


Library Journal Who are you if you wake up on a plane, you don't know where it's going or where you've been, your front four teeth are gone, blood is all over your face and hands, and there's a hole the size of a finger in your cheek? You are Frey, 23, an alcoholic since ten and a crackhead for about as long, as well as a criminal wanted in three states, and you are just about to realize that you are fucked-royally. So, where do you go from here? Frey learns that his plane is going to Chicago, where his parents will meet him in a last-ditch attempt to convince him to go into rehab, and he agrees, knowing that there might not be another chance to say yes. He tells the rest of his story in the same gruesome detail, reconstructing how he got clean and sober. Although facets of Alcoholics Anonymous helped him, he ultimately rejects the 12-step program as anything he would be able to use, preferring to see his alcoholism as a personal weakness rather than a disease. Whatever his choices, they were effective enough to keep him sober for the last nine years. Luckily, he had many brain cells to spare, as this raw and intense book reveals a rare author whose approach to memoir writing is as original as his method to getting straight. Highly recommended. [Previewed in Prepub Alert, LJ 12/02.]-Rachel Collins, "Library Journal" Copyright 2003 Reed Business Information.
Copyright © Reed Business Information, a division of Reed Elsevier Inc. All rights reserved.
Book list At 23, Frey allowed his parents to check him into a rehabilitation facility in Minnesota. An alcoholic and a crack addict, Frey had hit absolute rock bottom. The doctor at the rehab center told him another drinking binge might kill him. To Frey, who was vomiting blood and dreaming of copious amounts of drugs and alcohol, there didn't seem to be another option. And then, on the night he attempted his escape from the center, a fellow patient named Leonard stopped him. And thus began the horrible, hard climb to sobriety. Frey was inundated with success stories and 12-step dogma, but he continued to resist both AA and the idea that only a belief in a higher power can save someone who has fallen so far. Leonard remained a constant friend in Frey's struggle, sharing the story of his own tragic past and bolstering Frey's determination. Frey found a different kind of support in Lilly, a vulnerable young woman with whom he fell in love. Anger, hurt, love, and pain are all laid bare; his writing style is as naked and forthright as the raw emotions that life in the rehab center brings to the surface. Starkly honest and mincing no words, Frey bravely faces his struggles head on, and readers will be mesmerized by his account of his ceaseless battle against addiction. Kristine Huntley
From Booklist, Copyright © American Library Association. Used with permission.
School Library Journal Adult/High School-Frey's high school and college years are a blur of alcohol and drugs, culminating in a full-fledged crack addiction at age 23. As the book begins, his fed-up friends have convinced an airline to let him on the plane and shipped him off to his parents, who promptly put him in Hazelden, the rehabilitation clinic with the greatest success rate, 20 percent. Frey doesn't shy away from the gory details of addiction and recovery; all of the bodily fluids make major appearances here. What really separates this title from other rehab memoirs, apart from the author's young age, is his literary prowess. He doesn't rely on traditional indentation, punctuation, or capitalization, which adds to the nearly poetic, impressionistic detail of parts of the story. Readers cannot help but feel his sickness, pain, and anger, which is evident through his language. Ken Kesey's One Flew over the Cuckoo's Nest (Viking, 1962) seems an apt comparison for this work-Frey maintains his principles and does not respect authority at all if it doesn't follow his beliefs. And fellow addicts are as much, if not more, help to him than the clinicians who are trying to preach the 12 steps, which he does not intend to follow in his path to sobriety. This book is highly recommended for teens interested in the darker side of human existence.-Jamie Watson, Enoch Pratt Free Library, Baltimore Copyright 2003 Reed Business Information.
Copyright © Reed Business Information, a division of Reed Elsevier Inc. All rights reserved.
Publishers Weekly Frey is pretender to the throne of the aggressive, digressive, cocky Kings David: Eggers and Foster Wallace. Pre-pub comparisons to those writers spring not from Frey's writing but from his attitude: as a recent advance profile put it, the 33-year-old former drug dealer and screenwriter "wants to be the greatest literary writer of his generation." While the Davids have their faults, their work is unquestionably literary. Frey's work is more mirrored surface than depth, but this superficiality has its attractions. With a combination of upper-middle-class entitlement, street credibility garnered by astronomical drug intake and PowerPoint-like sentence fragments and clipped dialogue, Frey proffers a book that is deeply flawed, too long, a trial of even the most nave reader's credulousness-yet its posturings hit a nerve. This is not a new story: boy from a nice, if a little chilly, family gets into trouble early with alcohol and drugs and stays there. Pieces begins as Frey arrives at Hazelden, which claims to be the most successful treatment center in the world, though its success rate is a mere 17%. There are flashbacks to the binges that led to rehab and digressions into the history of other patients: a mobster, a boxer, a former college administrator, and Lilly, his forbidden love interest, a classic fallen princess, former prostitute and crack addict. What sets Pieces apart from other memoirs about 12-stepping is Frey's resistance to the concept of a higher power. The book is sure to draw criticism from the recovery community, which is, in a sense, Frey's great gimmick. He is someone whose problems seem to stem from being uncomfortable with authority, and who resists it to the end, surviving despite the odds against him. The prose is repetitive to the point of being exasperating, but the story, with its forays into the consciousness of an addict, is correspondingly difficult to put down. (Apr. 15) Forecast: Gus Van Sant, director of Drugstore Cowboy and Good Will Hunting, is negotiating to bring Pieces to the screen, so wise readers will not commit to 400 pages but wait for the 96-minute version, but booksellers should stock up as the chiseled Frey hits the interview circuit. Copyright 2003 Reed Business Information.
Copyright © Reed Business Information, a division of Reed Elsevier Inc. All rights reserved.
Library Journal An alcoholic and crack addict so physically mauled by his indulgences that doctors marveled that he was still alive, Frey finally cleaned himself up at age 23. Here he takes full responsibility for nearly destroying himself. Copyright 2002 Cahners Business Information.
Copyright © Reed Business Information, a division of Reed Elsevier Inc. All rights reserved.