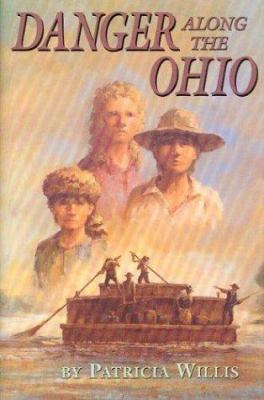 Danger Along the Ohio
by Patricia Willis


Book list Gr. 4^-7. When Shawnee Indians raid the settlement where their flatboat is moored, 13-year-old Amos and his younger sister and brother free the craft and escape, not knowing whether their father has survived. Forced to land on the Shawnee side of the river after a flaming arrow sets the boat afire, they head for Marietta, Ohio, where they hope to meet their father. On the way, they save an injured Shawnee boy and are captured by warriors from his tribe. Eventually, they learn that they have less to fear from Red Moccasin and his kin than they believed, and Amos finds the courage to "plant a seed of friendship." In this fast-paced adventure, Willis successfully re-creates the anti-Indian prejudice of 1795 when white easterners fought to settle Ohio. --Chris Sherman
From Booklist, Copyright © American Library Association. Used with permission.
School Library Journal Gr 4-7?Willis combines the suspense of a page-turner, the danger level of a thriller, the fascination of a survival story, and the ease of a hi/lo vocabulary. In 1793, three siblings (Amos, 13; Clara, 12; Jonathan, 7) are separated from their father during their immigration, via flatboat, down the Ohio River from their Pennsylvania home to a new beginning in the Ohio wilderness. After an Indian attack, the three are left with no adult support, scant supplies, no transportation, and a cow in tow to journey along the dangerous Shawnee side of the Ohio to the safety of the Marietta settlement. Readers will recognize the breathless pace they've loved in action movies, defined by the eruption of a new crisis on the heels of each crisis resolution, as the siblings struggle against the odds: scavenging food; stealing fire from the Indians; whittling tools for catching supper; rescuing a young Shawnee from drowning; and treating wounds with chickweed and birch leaves. The author's sturdy plot advances distinctly and chronologically, resulting in pure suspense. She keeps her vocabulary action-oriented and her dialogue straightforward. The young Shawnee's presence raises intriguing philosophical questions regarding the nature of communication and the components of true friendship. After all of this, who could complain about a contrived happy ending??Liza Bliss, Worcester Public Library, MA
Copyright © Reed Business Information, a division of Reed Elsevier Inc. All rights reserved.