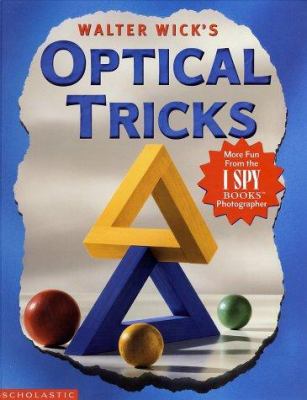 Optical Tricks
by Walter Wick


Book list Gr. 3^-6. Using mirrors, lighting, shadows, and simple props, the photographer who gave us the I Spy books and last year's extraordinary A Drop of Water, Booklist 1997 Top of the List for Young Nonfiction, has produced a stunning picture book of optical illusions. With crystal-clear photographs, he creates a series of scenes that fool the eye and the brain. Objects placed on a mirror seem to float in space, a triangle appears to move in three different directions, and a small Roman soldier guards a strange structure with columns that seem to change shape and decrease in number. These and other illusions are accompanied by text that not only describes what is happening but also gives hints about how the tricks are done. A full explanation of each illusion is provided at the end. The large format and clear pictures make this perfect for using with a small group, and even readers older than the target audience will enjoy the challenge of these examples of trompe l'oeil. --Helen Rosenberg
From Booklist, Copyright © American Library Association. Used with permission.
School Library Journal Gr 4-8-Communication between eye and mind is disoriented with a series of colorful photos of meticulously chosen or carefully constructed objects painstakingly arranged and ingeniously photographed from extremely precise angles. Challenges are presented both in those often-frustrating photos and in the simply written text, with the "illusions" revealed on subsequent pages by having readers change their viewpoint, or in consultation with a series of "solutions" and explanations at the back of the book. In a conclusion, youngsters are reassured that not everyone can "see" every illusion, and that this work is meant as "...an entertaining introduction to the mysteries of visual perception..." and not an "intelligence test." Highly sophisticated despite its appearance of colorful ingenuousness, this new endeavor from the creator of A Drop of Water (Scholastic, 1997) will prove engagingly demanding to those who can "see" 3-D op art in a trice, and annoyingly exacting to those who cannot. Stimulating, if frustrating, and certainly not in the usual stripe of books on optical illusions.-Patricia Manning, formerly at Eastchester Public Library, NY
Copyright © Reed Business Information, a division of Reed Elsevier Inc. All rights reserved.
Publishers Weekly Wick (photographer of the I Spy books) reaches into his bag of photography tricks and pulls out surprises galore: his baker's dozen of fascinating illusions will stump readers of every age. Nothing is quite what it seems?images that appear indented in clay suddenly pop out in relief when the page is turned upside-down; a handful of fish multiplies into an endless school through the clever use of mirrors; the middle of three columns in a structure seems to disappear somewhere between base and ceiling. Crisply photographed and composed in largely primary colors, the images pack a nifty one-two punch. Best yet, Wick generously reveals the tricks of his trade at the end, explaining the difference between true and false perceptions and showing how, for example, he created the illusion titled "In Suspense" by placing halves of objects on a mirror to make them appear as wholes, floating in space. Part M.C. Escher, part "Magic Eye," but wholly original in their presentation, these irresistible puzzles are nothing short of visual catnip. Ages 7-up. (Sept.)
Copyright © Reed Business Information, a division of Reed Elsevier Inc. All rights reserved.