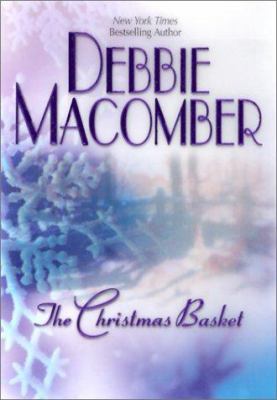 The Christmas Basket
by Debbie Macomber


Library Journal Home for the first time in years for her sister's holiday wedding, Noelle McDowell is forced to face Thom Sutton, the man who jilted her when they were both teenagers. Complicating matters is the longstanding feud between their mothers, which, although it will likely seem silly and shallow to most readers, is actually at the root of Noelle and Thom's problems. Fans will likely demand this light, little Christmas hardcover romance by one of the genre's favorites, especially if they enjoy sweet, contemporary romances of the Americana variety. Macomber (Between Friends) lives in Port Orchard, WA. Copyright 2002 Reed Business Information.
Copyright © Reed Business Information, a division of Reed Elsevier Inc. All rights reserved.
Publishers Weekly Prolific, bestselling romance novelist Macomber offers fans a stocking stuffer for the Christmas season. Twenty-eight-year-old workaholic Noelle McDowell takes a rare vacation from her high-powered computer company in Dallas to come home to smalltown Rose, Ore., for the holidays and help plan her sister's wedding. Noelle hasn't been to Rose in 10 years-ever since her high school sweetheart jilted her. Theirs was a secret romance because their mothers, one-time best friends, had long been engaged in a bitter feud that began when Sarah McDowell borrowed Mary Sutton's antique tea service and never returned it. A silly popcorn-throwing incident at the movies brings Noelle and her ex, Thom-now a handsome executive at a prosperous startup-together again. They discover they're still in love. But will their warring families ruin their second chance for happiness? Their mothers, coincidentally assigned to the same volunteer job-filling Christmas baskets for the needy-begin their charity mission with a vicious toy-throwing fight at a local mall. Will an accident during an ice storm provide an occasion for their reconciliation? There aren't exactly any hairpin plot turns in this formulaic, feel-good, PG-rated contemporary romance. Still, the mom-against-mom catfight adds a dash of hilarity to this lightweight confection. The good, clean holiday fun should satisfy Macomber's fans. (Oct.) Forecast: The Christmas Basket doesn't shoot as high as The Last Noel (see above), but the price is even nicer. This is a good bet for point-of-purchase sales. Copyright 2002 Cahners Business Information.
Copyright © Reed Business Information, a division of Reed Elsevier Inc. All rights reserved.
Book list The one person Noelle McDowell doesn't want to see when she returns home for the first time in 10 years to celebrate Christmas with her family is her old boyfriend Thomas "Thom" Sutton. Noelle wants nothing to do with Thom, who once promised to elope with her, only never to show up. When their mothers, once best friends and now feuding enemies, are thrown together in a charity project, Noelle discovers what really happened between Thom and herself and how much she still loves him. An old friendship torn apart by a bitter feud and a young romance cast aside due to a misunderstanding are both given another chance in this sweet traditional romance that celebrates the power of love and friendship.
From Booklist, Copyright © American Library Association. Used with permission.