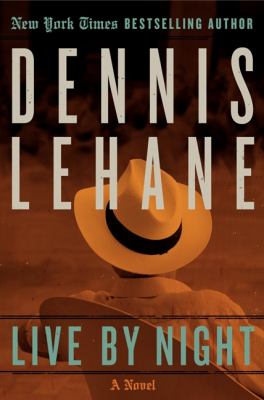 Live by Night: (Coughlin, Book 2)
by by Dennis Lehane


Library Journal Lehane (Mystic River; Shutter Island) is known for gritty, occasionally gruesome mystery novels, frequently set in the working-class Boston neighborhood of Dorchester, where he grew up. Like his The Given Day, this new book represents something of a departure for Lehane. Both are historical novels, following the history of the Coughlin family in Boston between the two world wars. While the first novel offered a complex narrative thread and examined the lives of multiple characters, Lehane focuses here on Joe Coughlin's rising career as a gangster and rum runner. Joe is the younger brother of Danny Coughlin, the protagonist of The Given Day, who appears only briefly here, and Joe's exploits effectively illustrate how Prohibition boosted the fortunes of gangsters like Danny. VERDICT Lehane continues to evoke beautifully the world of Boston in the 1920s. The narrative falters and loses focus somewhat in the novel's second half when the setting shifts to Florida and Cuba. The novel also suffers from its almost exclusive focus on a single character. While not on the level of its predecessor, it still provides sufficient action to entertain most fans of historical fiction and mystery. [See Prepub Alert, 4/23/12.]-Douglas Southard, Boston (c) Copyright 2012. Library Journals LLC, a wholly owned subsidiary of Media Source, Inc. No redistribution permitted.
(c) Copyright Library Journals LLC, a wholly owned subsidiary of Media Source, Inc. No redistribution permitted.
Book list *Starred Review* Lehane's latest historical thriller, following The Given Day (2008), continues the author's propulsive narrative train ride across twentieth-century American history. This time the train stops during Prohibition, and the individual focus is on Joe Coughlin, a Boston cop's son by birth but a gangster by choice, rejecting his father's platitudes about crime not paying and choosing, instead, to live by night, in a world without nets none to catch you and none to envelop you. Joe begins in Boston, and after a stint in prison, it's off to Tampa, where he quickly becomes the crime boss of Ybor City, rum-running capital of Florida. Joe, like Vito Corleone, is a thoughtful gangster, a family man who would prefer to do business without violence but who draws violence to him like a magnet. Despite evoking comparisons both to The Godfather and to the TV series Boardwalk Empire, Lehane's novel carves its own unique place in the Prohibition landscape, partially because crime runs at a more languid if no less lethal pace in Ybor City than it does in the North. And, somehow, when the staccato rhythm of gunfire overwhelms the tranquil tempo of a slowly turning ceiling fan, the jolt to our system is stronger, as is the realization that Joe's worlds of night and day are held together by the thinnest of fibers. This is an utterly magnetic novel on every level, a reimagining of the great themes of popular fiction crime, family, passion, betrayal set against an exquisitely rendered historical backdrop. HIGH-DEMAND BACKSTORY: Note to that big IT department in the sky: add bandwidth, launch satellites, do whatever you need to do to prepare for the digital promotion campaign that will accompany the launch of Dennis Lehane's new novel.--Ott, Bill Copyright 2010 Booklist
From Booklist, Copyright © American Library Association. Used with permission.
Publishers Weekly Bestseller Lehane (The Given Day) chronicles the Prohibition-era rise of Joe Coughlin, an Irish-American gangster, in this masterful crime epic. While most hard-working stiffs are earning their wages by day in 1926 Boston, 19-year-old Joe and his friends live by night, catering to the demand for prostitution, narcotics, and bootleg alcohol. When Joe falls for a competing mobster's gun moll, he sets in motion a chain of events that land him in prison, with the girl missing and presumed dead. In the joint, Joe meets aging Mafia don Thomaso "Maso" Pescatore, who becomes his mentor. On Joe's release, Maso sets Joe up in Tampa, Fla., as his point man. Years pass, and Joe creates a huge empire in the illegal rum trade. He marries Graciela Corrales, a fiery Cuban revolutionary, and eventually builds a life for himself in Batista's Cuba, soothing his conscience by doing good works with his dirty money. This idyllic existence can't last forever, though, especially in the night, with its shifting alliances and fated clashes. Lehane has created a mature, quintessentially American story that will appeal to readers of literary and crime fiction alike. Agent: Ann Rittenberg, Ann Rittenberg Literary. (Oct.) (c) Copyright PWxyz, LLC. All rights reserved.
(c) Copyright PWxyz, LLC. All rights reserved