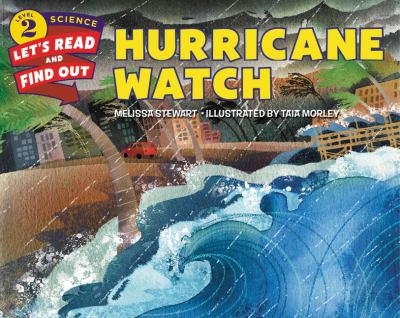 Hurricane Watch
by Melissa Stewart


School Library Journal Gr 1-3-The life cycle of a hurricane and its potential effects on a community are presented in this engaging series entry. A family hears the news of an approaching tropical storm from a TV weather person and reviews a checklist of precautions and preparations. Satellites track the storm's progress, and planes fly into it to measure its strength. Scientists on the ground give the hurricanes separate names to keep track of them. Stewart succinctly explains how hurricanes form and develop. Scientific terms are used in sentences and defined in the text. The clear, full-color illustrations amplify scientific concepts, such as how warm ocean water evaporates and spirals up, thereby allowing cooler air to rush in, replace the rising warm air, and begin the rotation of a tropical storm. One of the activities in the "Find Out More About Hurricanes" section invites children to use string, scissors, paper, and a light bulb to explore how heat causes this spiraling. VERDICT Readers and browsers will find a lot to read and see in these spreads.-Frances E. Millhouser, formerly at Fairfax County Public Library, VA © Copyright 2015. Library Journals LLC, a wholly owned subsidiary of Media Source, Inc. No redistribution permitted.
(c) Copyright Library Journals LLC, a wholly owned subsidiary of Media Source, Inc. No redistribution permitted.
Book list This informational picture book offers a colorfully illustrated introduction to hurricanes. The lucid text explains the nature of these storms as well as when, where, and how they form. The expressive illustrations watercolors with digitally added elements offer views of hurricanes, scientists studying them, broadcasters explaining them, and people preparing for the high winds and heavy rains they bring. The pictures sometimes incorporate arrows, labels, and diagrams to clarify concepts such as cloud formation, the earth's rotation, the Saffir-Simpson scale of hurricane wind-speed categories, and the progressive weakening of a storm over land. Offering plenty of facts for kids intrigued by extreme weather as well as some practical advice and a couple of hands-on activities to try, this attractive book is the latest addition to the respected Let's-Read-and-Find-Out series.--Phelan, Carolyn Copyright 2015 Booklist
From Booklist, Copyright © American Library Association. Used with permission.