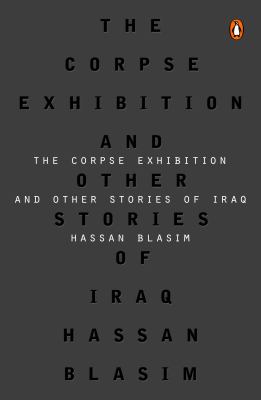 The corpse exhibition and other stories of Iraq
by Hassan Blasim ; translated from the Arabic by Jonathan Wright


Publishers Weekly Iraq came into our recent consciousness through war, supplanting the magic carpets and genies of folk tales, but Blasim, a filmmaker, poet, and fiction writer, who, persecuted under Saddam Hussein, fled Baghdad in 1998, destroys all preconceptions about his homeland and the effects of dictatorship, war, and occupation in this stunningly powerful collection. The stories are brutal, vulgar, imaginative, and unerringly captivating. In the title story, a man is interviewed for a job as an assassin, with the caveat that he's expected to display the corpses of his victims in artistic and interesting ways. In "The Killers and the Compass," a young boy follows his elder "giant brother," Abu Hadid, around their "sodden neighborhood" of muddy lanes as he terrorizes the neighbors and extorts favors. The corpse of a journalist tells his story in "An Army Newspaper": "There's no need to kick him in the balls for him to tell the story honestly and impartially, because the dead are usually honest, even the bastards among them." The surreal continues in "The Madman of Freedom Square," in which the statues of "the blonds," two young men who had mysteriously appeared in the wretched Baghdad neighborhood called the Darkness District and transformed the inhabitants' lives, are threatened with destruction by the new government's army. Daniel is "The Iraqi Christ" and has premonitions: "A constant itching in Daniel's crotch foretold that an American helicopter would crash..." Cars explode, women and boys are beaten and raped, bodies are inhabited by spirits, refugees tell lies, yet none of the horror is gratuitous; every story ends with a shock, and none of them falter. A searing, original portrait of Iraq and the universal fallout of war. (Feb.) (c) Copyright PWxyz, LLC. All rights reserved.
(c) Copyright PWxyz, LLC. All rights reserved
Book list These 14 surrealistic stories are all about Iraq's endless wars. Americans are mostly off-stage, but The Madman of Freedom Square is a sly, dark allegory of their arrival and sometimes miraculous effect. Many characters are terrorists, as in The Killers and the Compass, in which a veteran terrorist explains the divinity one acquires in the disposition of extreme violence not a Muslim divinity but a personal one rising from inspiring terror and killing. The title story is all about the fine art of displaying corpses in public places. The matter-of-fact tone of its first-person narrator, a sort of instructor, suggests Kafka's A Report to an Academy. But one thinks of Borges in perhaps the best entry, The Nightmares of Carlos Fuentes, about an Iraqi immigrant to Holland who's determined to put his country's evils behind him, even to the point that he pretends to be Mexican. An interesting choice for larger fiction collections and perhaps base libraries.--Mort, John Copyright 2010 Booklist
From Booklist, Copyright © American Library Association. Used with permission.
Library Journal An Iraqi-born writer currently living in exile in Finland, Blasim offers a collection of fairly brief stories, set mostly in Iraq in recent years, although details are hazy. The characters are mostly young men whose lives have been shattered violently and brutally by the upheavals of the war, the fascist dictatorship, and the disintegration of society. The title piece, which involves hired executioners and their training, includes a discussion of the methods and history of murder. Absent are any reasons, names, and places, only a long, uninterrupted speech given by a nameless, faceless person in complete command. Several stories involve refugees outside Iraq, who tell their experiences, confuse identities, lie, repeat mistakes, and meet tragic ends. In "The Reality and the Record," a refugee relates being kidnapped and made to read written statements on camera many times, each time with a story of murder committed by or attributed to a different cause or political party. VERDICT Well written and harrowing, these stories paint a grim picture. Because of the abbreviated nature of the pieces, however, and the fragmented and oblique style that mirrors a world disrupted, the cumulative impact for the reader is somewhat diminished given the level of tragedy that is depicted within. [See Prepub Alert, 10/28/13.]-James Coan, SUNY at Oneonta Lib. (c) Copyright 2014. Library Journals LLC, a wholly owned subsidiary of Media Source, Inc. No redistribution permitted.
(c) Copyright Library Journals LLC, a wholly owned subsidiary of Media Source, Inc. No redistribution permitted.