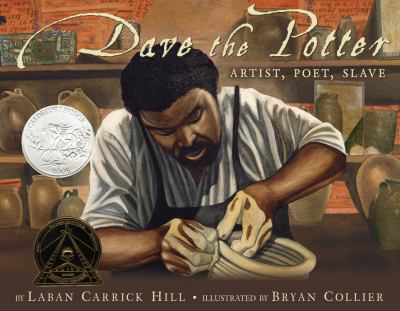 Dave the Potter: Artist, Poet, Slave
by illustrated by Bryan Collier, written by Laban Carrick Hill


School Library Journal K-Gr 4-The life of an astonishingly prolific and skilled potter who lived and died a slave in 19th-century South Carolina is related in simple, powerful sentences that outline the making of a pot. The movements of Dave's hands are described using familiar, solid verbs: pulling, pinching, squeezing, pounding. Rural imagery-a robin's puffed breast, a carnival wheel-remind readers of Dave's surroundings. The pithy lines themselves recall the short poems that Dave inscribed on his pots. Collier's earth-toned watercolor and collage art extends the story, showing the landscape, materials, and architecture of a South Carolina farm. Alert readers will find hidden messages in some of the collages, but what stands out in these pictures are Dave's hands and eyes, and the strength of his body, reflected in the shape and size of his legendary jars and pots. A lengthy author's note fleshes out what is known of the man's life story and reproduces several of his two-line poems. A photograph of some of Dave's surviving works cements the book's link to the present and lists of print and online resources encourage further exploration. An inspiring story, perfectly presented and sure to prompt classroom discussion and projects. Outstanding in every way.-Paula Willey, Baltimore County Public Library, Towson, MD (c) Copyright 2010. Library Journals LLC, a wholly owned subsidiary of Media Source, Inc. No redistribution permitted.
(c) Copyright 2010. Library Journals LLC, a wholly owned subsidiary of Media Source, Inc. No redistribution permitted.
Book list As a closing essay explains, little is known about the man known as Dave the potter. Two things are certain, though: he was a slave in South Carolina, and he was a potter of uncommon skill. As Hill writes, Dave was one of only two potters at the time who could successfully make pots that were larger than twenty gallons. He also inscribed strange, sophisticated poetry into the clay: I wonder where / is all my relation / friendship to all / and, every nation. The verses Hill uses to introduce us to Dave are sometimes just as evocative: On wet days, / heavy with rainwater, / it is cool and squishy, / mud pie heaven. The book's quiet dignity comes from its refusal to scrutinize life as a slave; instead, it is nearly a procedural, following Dave's mixing, kneading, spinning, shaping, and glazing. Collier's gorgeous watercolor-and-collage illustrations recall the work of E. B. Lewis earth-toned, infused with pride, and always catching his subjects in the most telling of poses. A beautiful introduction to a great lost artist.--Kraus, Daniel Copyright 2010 Booklist
From Booklist, Copyright © American Library Association. Used with permission.