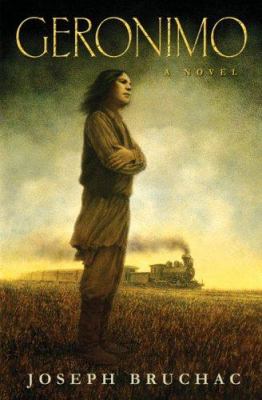 Geronimo
by Joseph Bruchac


Book list Gr. 7-10. While Bruchac's unnamed narrator is fictional, this novel of Geronimo, the great Chiricahua Apache, is grounded in facts. It begins in September 1886, when Geronimo and many of his band--including his adopted adolescent grandson, who recounts these events as an adult looking back--were taken from Arizona to Florida on a crowded train. At each stop, the terrified prisoners wonder if they will be killed or merely humiliated, as curious White Eyes stop to gawk and to buy artifacts from the Indian passengers. Geronimo's patience and canny wisdom come through, even when his group ends up in a humid, insect-infested place and must struggle to find employment. For his part, the narrator keeps himself from being sent to the infamous Carlisle Indian School, where young Indians were stripped of their culture and often contracted tuberculosis. The pace is stately and the storytelling occasionally dense, but many readers will be fascinated by this close-up view of a valiant leader and the hardships endured by his people. Excerpts from primary source documents open each chapter and anchor the fiction in history. --GraceAnne DeCandido Copyright 2006 Booklist
From Booklist, Copyright © American Library Association. Used with permission.
School Library Journal Gr 5-10-Starting in 1886 with Geronimo's final surrender, this novel is told from the perspective of his adopted grandson Little Foot, and follows the Chiricahua Apaches from their home in Arizona to Florida. At Fort Marion, the group dwindles, losing children to the Carlisle Indian School, where those who contract tuberculosis are sent home to die and spread the disease. Little Foot escapes this fate and eventually joins the U.S. Infantry. Bruchac's narrative meanders and shifts, but he sprinkles the trail with excitement and humor. Little Foot himself points out, "I know that most White Eyes readers are less patient than Indians and prefer short stories that are easy to understand," and some young people will find this one difficult. But fans of history, or of themes of survival and freedom, will find it fascinating-and certainly different from other fare about the man. The fictional Little Foot affords Bruchac the perfect point of view to observe and interpret Geronimo's life, explaining where the history books got it wrong, and offering insights that won't be found there. There is not enough explanation about how Bruchac constructed his story from his sources (listed at the end). Nonetheless, as the author develops a compelling picture of a people driven by universal and recognizable motives, readers may find this story more persuasive than the nonfiction sources available in most libraries.-Nina Lindsay, Oakland Public Library, CA Copyright 2006 Reed Business Information.
Copyright © Reed Business Information, a division of Reed Elsevier Inc. All rights reserved.