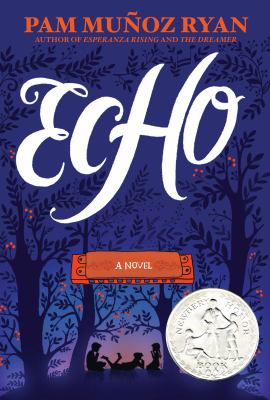 Echo
by Pam Munoz Ryan


Publishers Weekly The fairy tale that opens this elegant trio of interconnected stories from Ryan (The Dreamer) sets the tone for the rest of the book, in which a mystical harmonica brings together three children growing up before and during WWII. Friedrich, an aspiring conductor whose birthmark makes him an undesirable in Nazi Germany, must try to rescue his father after his Jewish sympathies land him in a prison camp. In Pennsylvania, piano prodigy Mike and his brother, Frankie, get a chance to escape the orphanage for good, but only if they can connect with the eccentric woman who has adopted them. In California, Ivy Maria struggles with her school's segregation as well as the accusations leveled against Japanese landowners who might finally offer her family a home of their own. Each individual story is engaging, but together they harmonize to create a thrilling whole. The book's thematic underpinnings poignantly reveal what Friedrich, Mike, and Ivy truly have in common: not just a love of music, but resourcefulness in the face of change, and a refusal to accept injustice. Ages 10-14. Agent: Kendra Marcus, BookStop Literary Agency. (Feb.) © Copyright PWxyz, LLC. All rights reserved.
(c) Copyright PWxyz, LLC. All rights reserved
School Library Journal Gr 5-8-"Long before enchantment was eclipsed by doubt," a young boy named Otto lost in the woods is rescued by three sisters imprisoned there by a witch's curse. In return, he promises to help break the curse by carrying their spirits out of the forest in a mouth harp and passing the instrument along when the time is right. The narrative shifts to the 20th century, when the same mouth harp (aka harmonica) becomes the tangible thread that connects the stories of three children: Friedrich, a disfigured outcast; Mike, an impoverished orphan; and Ivy, an itinerant farmer's child. Their personal struggles are set against some of the darkest eras in human history: Friedrich, the rise of Nazi Germany; Mike, the Great Depression; Ivy, World War II. The children are linked by musical talent and the hand of fate that brings Otto's harmonica into their lives. Each recognizes something unusual about the instrument, not only its sound but its power to fill them with courage and hope. Friedrich, Mike, and Ivy are brought together by music and destiny in an emotionally triumphant conclusion at New York's Carnegie Hall. Meticulous historical detail and masterful storytelling frame the larger history, while the story of Otto and the cursed sisters honor timeless and traditional folktales. Ryan has created three contemporary characters who, through faith and perseverance, write their own happy endings, inspiring readers to believe they can do the same.-Marybeth Kozikowski, Sachem Public Library, Holbrook, NY (c) Copyright 2014. Library Journals LLC, a wholly owned subsidiary of Media Source, Inc. No redistribution permitted.
(c) Copyright Library Journals LLC, a wholly owned subsidiary of Media Source, Inc. No redistribution permitted.
Book list When Otto meets three ethereal sisters, he has no idea that the harmonica they enchant will one day save a life. Decades later, the very same harmonica makes its way to America, and in three sections, Ryan tells the stories of kids whose lives are changed by its music: Friedrich Schmidt, in 1933 Germany, whose father is a Jewish sympathizer; Mike Finnegan, an orphan in Philadelphia in 1935; and Ivy Lopez, living with her parents in California in 1942 while they take care of the farm of a Japanese family who has been sent to an internment camp. The magical harmonica not only helps each of the three discover their inborn musical talents but also gives them the courage to face down adversity and injustice. Though the fairy tale-like prologue and conclusion seem a bit tacked on, Ryan nonetheless builds a heartening constellation of stories around the harmonica, and the ultimate message that small things can have a powerful destiny is resoundingly hopeful. Harmonica tabs are included for readers who want to try their hands at the instrument.--Hunter, Sarah Copyright 2015 Booklist
From Booklist, Copyright © American Library Association. Used with permission.