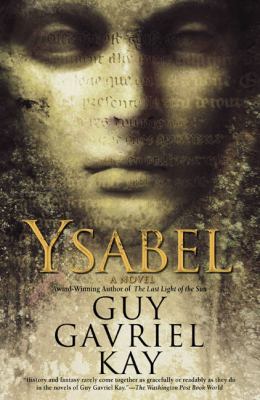 Ysabel
by Guy Gavriel Kay


Library Journal Ned Marriner joins his father, the famous photographer Edward Marriner, for an extended stay in Provence, an area of France steeped in both Celtic and Roman history. Then, a visit to Saint-Sauveur Cathedral in the town of Aix brings Ned together with Kate Wenger, an American exchange student, and a man who appears to be much, much older than one would think-and both Ned and Kate become caught up in another time where the reenactment of an old story draws the two young people into a cycle of myths and legends in which truth, love, courage, and sacrifice are the only things that matter. An explorer of history and myths, Kay (The Last Light of the Sun) has a special affinity for the people behind the larger-than-life legends that persist through time. His latest fantasy blends time and place in a crossing of worlds and universal truths. Highly recommended. Copyright 2007 Reed Business Information.
Copyright © Reed Business Information, a division of Reed Elsevier Inc. All rights reserved.
Publishers Weekly Kay (The Last Light of the Sun) departs from his usual historical fantasies to connect the ancient, violent history of France to the present day in this entrancing contemporary fantasy. Fifteen-year-old Canadian Ned Marriner accompanies his famous photographer father, Edward, on a shoot at Aix-en-Provence's Saint-Saveur Cathedral while his physician mother, Meghan, braves the civil war zone in Sudan with Doctors Without Borders. As Ned explores the old cathedral, he meets Kate Wenger, a geeky but attractive American girl who's a walking encyclopedia of history. In the ancient baptistry, the pair are surprised by a mysterious, scarred man wielding a knife who warns that they've "blundered into a corner of a very old story. It is no place for children." But Ned and Kate can't avoid becoming dangerously entangled in a 2,500-year-old love triangle among mythic figures. Kay also weaves in a secondary mystery about Ned's family and his mother's motivation behind her risky, noble work. The author's historical detail, evocative writing and fascinating characters-both ancient and modern-will enthrall mainstream as well as fantasy readers. (Feb.) Copyright 2006 Reed Business Information.
Copyright © Reed Business Information, a division of Reed Elsevier Inc. All rights reserved.
Book list In Kay's eagerly awaited new book set mostly in twenty-first-century Aix-en-Provence, 15-year-old Ned Marriner is spending a spring vacation with his celebrated photographer father during a shoot of the Cathedral of Saint-Sauveur. His mother, a physician with Doctors without Borders, is in the Sudan, so Ned and Dad are extremely worried. Exploring Saint-Sauveur, Ned meets American exchange-student Kate Wenger, who knows a lot about the history of Aix. The two surprise a knife-carrying, scar-faced stranger in the cathedral, who tells them, I think you ought to go. . . . You have blundered into the corner of a very old story. Ned and Kate, then the rest of his family, including the aunt and uncle from England and his mother, are drawn into an ancient conflict with the shades of Celtic spirits. Kay characterizes Ned superbly as he matures amid fantastic circumstances until he is able to make the final sacrifice; reader disbelief is unimperiled, and psychobabble unindulged. Outstanding characters, folklore, and action add up to another Kay must-read. --Frieda Murray Copyright 2007 Booklist
From Booklist, Copyright © American Library Association. Used with permission.