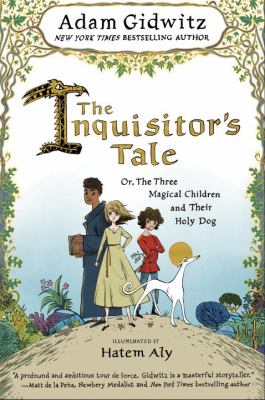 The Inquisitors Tale: Or, The Three Magical Children and Their Holy Dog
by Adam Gidwitz>


Publishers Weekly In 1242 France, weary travelers at an inn trade stories about three miraculous children and their dog, Gwenforte, who has returned from the dead. The children-Jeanne, a peasant girl who has visions of the future; William, an oblate of partial African heritage with uncanny strength; and Jacob, a Jewish boy with the power to heal the sick and injured-are the subject of much rumor and debate. Are they saints, frauds, or in league with the devil? Gidwitz (the Grimm trilogy) continues to toy with narrative in a well-researched and rambunctiously entertaining story that has as much to say about the present as it does the past. Evoking the oral storytelling traditions of the time, multiple characters including a nun, troubadour, and brewer alternately describe their encounters with the children to produce the whole story. Amid mugs upon mugs of ale, the tale that comes into focus is one of religious persecution and faith, friendships that transcend difference, and a dangerously flatulent dragon-Gidwitz continues to have no problem mixing high and low. Final art not seen by PW. Ages 10-up. Author's agent: Sarah Burnes, Gernert Company. (Sept.) © Copyright PWxyz, LLC. All rights reserved.
(c) Copyright PWxyz, LLC. All rights reserved
Book list *Starred Review* Gidwitz leaves the fairy-tale realm of his Grimm trilogy behind and plunges into medieval France to tell the incredible story of three gifted children, a holy greyhound, and the people whose lives they touch. It is a time of miracles and saints, of fiends and dragons, all of which Gidwitz has meticulously teased from legends and histories of the Middle Ages. The story is relayed in the style of The Canterbury Tales, as travelers gathered at an inn share what they know of the children: Jeanne, a peasant girl with visions of the future; William, an African oblate with incredible strength; Jacob, a Jewish boy with healing powers; not to mention Gwenforte, their guardian greyhound. Religion lies at the book's heart, as Jewish and Christian beliefs come into conflict and the children's potential for sainthood is debated. It also triggers an act of defiance against the king that makes the miraculous threesome the most wanted people in France. Ten different narrators lend their voices to the tale including a brewster, nun, butcher, librarian, and troubadour while drinking a fair amount of ale, resulting in a boisterous, conversational tone. Gidwitz proves himself a nimble storyteller as he weaves history, excitement, and multiple narrative threads into a taut, inspired adventure. Though final artwork was unseen, the book will be fittingly illuminated with illustrations and marginalia. HIGH-DEMAND BACKSTORY: The work put into the physical book should tell you the publisher's belief in best-seller Gidwitz's latest. Also: the national tour, the floor display, and all that.--Smith, Julia Copyright 2016 Booklist
From Booklist, Copyright © American Library Association. Used with permission.
School Library Journal Gr 4-8-A hodgepodge of different narrators in 1242 France introduce readers to three unusual children and one remarkable dog. As their individual stories unfold and their paths collide, tension reaches a fever pitch as an agent of the Inquisition nips at their heels. Gidwitz's epic medieval adventure packs in boisterous action, richly depicted history, and lovable underdog characters, all illuminated by Aly's stunning artwork. The Middle Ages have never been as exciting or as funny. © Copyright 2016. Library Journals LLC, a wholly owned subsidiary of Media Source, Inc. No redistribution permitted.
(c) Copyright Library Journals LLC, a wholly owned subsidiary of Media Source, Inc. No redistribution permitted.
School Library Journal Gr 5-10-What is a miracle? Is a miracle what happens when, faced with murderous bandits, a teenage monk rips a leg off his donkey, beats them to death with it, then restores the donkey's leg? Or is it a miracle when a cranky innkeeper is so moved by a little girl's friendliness that he risks his life to help her and her companions flee a posse of armed knights? Maybe the real miracle happens when readers attracted to the action and violence a particular author is known for find themselves strongly invested in the moral questions that plague bandit-killing monk and friendly peasant girl alike-along with every other character they encounter, from a young minstrel/pickpocket to Louis IX. Gidwitz's tale of medieval France successfully combines the epic with the personal, aiming for that heart-stopping moment when characters readers have come to care about find themselves on a collision course with one of the great wood chippers of history-the Inquisition, agents of which are in hot pursuit of three underdog characters (and one actual dog) from the very start. It is left to the titular Inquisitor to discover the truth behind the legends that quickly rise to surround these kids. He nudges it from each of the travelers at a roadside inn, the narrative tension rising as each facet is revealed. VERDICT This book appeals to the heart, to the mind, and to any reader's appetite for action: read it for the thrilling escapes, the fart jokes, the stinky cheese, and the palace intrigue. Read it for the Talmudic wisdom, commonsense philosophies, and moments of doubt. Read it for the palaces and monasteries and the unbelievable descriptions of food. But read it.-Paula Willey, Baltimore County Public Library, Towson © Copyright 2016. Library Journals LLC, a wholly owned subsidiary of Media Source, Inc. No redistribution permitted.
(c) Copyright Library Journals LLC, a wholly owned subsidiary of Media Source, Inc. No redistribution permitted.