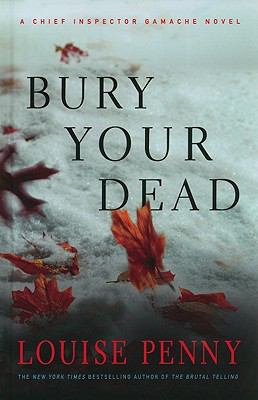 Bury your dead
by Louise Penny


Publishers Weekly At the start of Agatha-winner Penny's moving and powerful sixth Chief Insp. Armand Gamache mystery (after 2009's The Brutal Telling), Gamache is recovering from a physical and emotional trauma, the exact nature of which isn't immediately disclosed, in Quebec City. When the body of Augustin Renaud, an eccentric who'd spent his life searching for the burial site of Samuel de Champlain, Quebec's founder, turns up in the basement of the Literary and Historical Society, Gamache reluctantly gets involved in the murder inquiry. Meanwhile, Gamache dispatches his longtime colleague, Insp. Jean Guy Beauvoir, to the quiet town of Three Pines to revisit the case supposedly resolved at the end of the previous book. Few writers in any genre can match Penny's ability to combine heartbreak and hope in the same scene. Increasingly ambitious in her plotting, she continues to create characters readers would want to meet in real life. 100,000 first printing. (Oct.) (c) Copyright PWxyz, LLC. All rights reserved
(c) Copyright PWxyz, LLC. All rights reserved
Library Journal This sixth entry in Agatha and Anthony award-winning author Penny's (www.-louisepenny.com) Armand Gamache series is among the best. This time, the chief inspector is in Quebec City recovering from a recent traumatic incident when he becomes involved in a murder. The familiar setting of Three Pines is still featured, however, as the murder from Penny's previous title in this series, The Brutal Telling (2009), is revisited by one of Gamache's colleagues. The solutions to both killings as well as the event that drew Gamache to Quebec in the first place are all slowly and expertly revealed. British actor Ralph Cosham's narration is a bit flat, but not to the point where it detracts from the enjoyment of the book. Recommended. [The Minotaur: St. Martin's hc received a starred review, LJ 7/10.-Ed.]-Mary Knapp, Madison P.L., WI (c) Copyright 2011. Library Journals LLC, a wholly owned subsidiary of Media Source, Inc. No redistribution permitted.
(c) Copyright Library Journals LLC, a wholly owned subsidiary of Media Source, Inc. No redistribution permitted.
Book list *Starred Review* Penny's first five crime novels in her Armand Gamache series have all been outstanding, but her latest is the best yet, a true tour de force of storytelling. When crime writers attempt to combine two fully fleshed plots into one book, the hull tends to get a bit leaky; Penny, on the other hand, constructs an absolutely airtight ship in which she manages to float not two but three freestanding but subtly intertwined stories. Front and center are the travails of Gamache, chief inspector of the Sūreté du Quebec, who is visiting an old friend in Quebec City and hoping to recover from a case gone wrong. Soon, however, he is involved with a new case: the murder of an archaeologist who was devoted to finding the missing remains of Samuel de Champlain, founder of Quebec. As Gamache is drawn into this history-drenched investigation the victim's body was found in an English-language library, calling up the full range of animosity between Quebec's French majority and dwindling English minority he is also concerned that he might have jailed the wrong man in his last case (The Brutal Telling,2009) and orders his colleague, Jean Guy Beauvoir, back to the village of Three Pines to find what they missed the first time. Hovering over both these present investigations is the case gone wrong in the past, the details of which are gradually revealed in perfectly placed flashbacks. Penny brilliantly juggles the three stories, which are connected only by a kind of psychological membrane; as Gamache makes sense of what happened in the past, he is better able to think his way through present dilemmas. From the tangled history of Quebec to the crippling reality of grief to the nuances of friendship, Penny hits every note perfectly in what is one of the most elaborately constructed mysteries in years.--Ott, Bill Copyright 2010 Booklist
From Booklist, Copyright © American Library Association. Used with permission.
Library Journal This superb mystery fast-forwards from The Brutal Telling, Penny's last novel, precipitating readers into the fictional future, as it further develops characters and plot. As always, Chief Inspector Armand Gamache of the Montreal police is the series protagonist. Perceptive and reflective, Gamache has taken leave from his job and has repaired, sans wife, to Quebec City in order to recover from severe physical and emotional trauma incurred during a disastrous police hostage rescue mission. Plagued by his fatal mistakes, Gamache, succumbing to intrusive thoughts, incessantly relives the catastrophe. Indeed, the novel's structure replicates Gamache's thought processes, moving, in stream-of-consciousness fashion, from present to past and back again. Fortunately, Gamache is gradually drawn back to life as he happens upon a murder case. In the investigative process, he must perform meticulous research into the mystery of Quebec founder Samuel de Champlain's secret burial place. Verdict Reminiscent of the works of Donna Leon, P.D. James, and Elizabeth George, this is brilliantly provocative and will appeal to fans of literary fiction, as well as to mystery lovers. [See Prepub Mystery, LJ 5/1/10; 100,000-copy first printing.]-Lynne F. Maxwell, Villanova Univ. Sch. of Law Lib., PA (c) Copyright 2010. Library Journals LLC, a wholly owned subsidiary of Media Source, Inc. No redistribution permitted.
(c) Copyright Library Journals LLC, a wholly owned subsidiary of Media Source, Inc. No redistribution permitted.