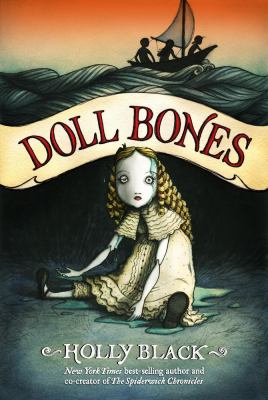 Doll Bones
by Holly Black


School Library Journal Gr 4-7-At 12 years old, lifelong friends Zach, Poppy, and Alice are ferociously clinging to their childhoods. Using old Barbies, pirate action figures, dolls from Good Will, and their imaginations, they have created an exciting world of characters in an elaborate game. Figuring heavily in their plotline is the Queen, an antique doll of bone china that belongs to Poppy's mother and is strictly off-limits to the kids. She's also incredibly creepy. When Zach's dad throws away his action figures, the boy is so devastated that he ends the game abruptly, leaving the girls hurt and confused. Shortly thereafter, Poppy reveals that the Queen is made of the bones of a dead girl named Eleanor who has been communicating with her at night. The doll appears to be filled with Eleanor's ashes, and she has promised Poppy that she will make their lives miserable if they don't journey to Ohio, find her grave, and bury her properly. After much persuading, Zach and Alice agree to the journey. The Queen gets scarier and scarier as unexplained events begin to occur along the way. Black has created protagonists who readers will care about, and amusing secondary characters, like a pink-haired librarian and a crazy bus passenger who seems to be able to see Eleanor. This novel is a chilling ghost story, a gripping adventure, and a heartwarming look at the often-painful pull of adulthood. Black-and-white illustrations actually tone down the scare factor a little, making this a perfect starter story for budding horror fans.-Mandy Laferriere, Fowler Middle School, Frisco, TX (c) Copyright 2013. Library Journals LLC, a wholly owned subsidiary of Media Source, Inc. No redistribution permitted.
(c) Copyright Library Journals LLC, a wholly owned subsidiary of Media Source, Inc. No redistribution permitted.
Book list *Starred Review* A trio of adolescents goes on a quest to satisfy the demands of a ghost. Sounds like standard middle-grade fare, but in Black's absolutely assured hands, it is anything but. Zach, Poppy, and Alice have been playing the same make-believe game for years, one involving pirates and mermaids and, of course, the Great Queen a creepy, bone-china doll at Poppy's house. Then Poppy reveals that she's been haunted by a girl whose ground-up bones lie inside the Great Queen, so the doll must be properly buried. Begrudgingly, the three agree to play one last game and hope against hope for a real adventure, the kind that changed you. With heart-wrenching swiftness, Black paints a picture of friends at the precipice of adulthood; they can sense the tentative peace of youth that is about to be demolished. The tightly focused, realistic tale bladed with a hint of fairy-tale darkness feels cut from the very soul of youth: there is no sentimentality, no cuteness, only the painful, contradictory longing to move forward in one's life without leaving anything behind. Stories about the importance of stories ( Maybe no stories were lies, thinks Zach) don't come much more forthright and affecting than this one. Wheeler's sketches ameliorate some of the tension and dread not a bad thing. HIGH-DEMAND BACKSTORY: Black's best-selling Spiderwick Chronicles pave the way for this powerful stand-alone, which comes with an author tour, in-theater promos, and more.--Kraus, Daniel Copyright 2010 Booklist
From Booklist, Copyright © American Library Association. Used with permission.
Publishers Weekly Zach plays with dolls. Never mind that they're action figures, heroes in a wild, improvisational saga he acts out with friends Poppy and Alice. Never mind that he's a solid student and rising basketball star. Zach is 12, and his father has decided this must stop. While Zach's at school, the dolls go to the dump, and Zach is left with only rage. He quits the game, but Alice and Poppy haul him out for one more quest: a bus trip to lay to rest the Queen, a bone china doll that Poppy swears is made from the bones of a murdered girl. Another crazy quest from Poppy's fertile brain? Or could this ghost story be real? The wonderfully eerie doll, the realism of the kids' improbable logic, and the ache underlying every character's actions create as much a state of existential anxiety as narrative tension. Black captures the adolescent sense that things are about to explode before they get explained. And it's a darn good adventure, too. Ages 10-14. Author's agent: Barry Goldblatt, Barry Goldblatt Literary. Illustrator's agent: Jennifer Rofe, Andrea Brown Literary Agency. (May) (c) Copyright PWxyz, LLC. All rights reserved.
(c) Copyright PWxyz, LLC. All rights reserved