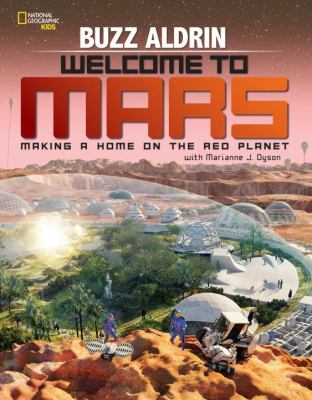 Welcome to Mars: Making a Home on the Red Planet
by Buzz Aldrin


School Library Journal Gr 4-8-Drawing on his experiences as an astronaut, Aldrin takes readers on a journey to the Red Planet. Written in the first person, Aldrin's narrative addresses his audience as though they are part of the first group to populate Mars. The history of space travel is covered-students will get a sense of just how much has been discovered over the years to make this "journey" a possibility-as well as what we know about Mars itself (the surface, gases, dust). Aldrin discusses what readers will need to do to successfully inhabit the planet, such as finding a home and growing food. Activities including making "Swiss cheese" terrain and comparing the sizes of Mars and Earth are interspersed throughout, offering potential astronauts an idea of what to expect on a voyage to Mars. Colorful images, a time line, and a map of Mars enhance the text. VERDICT A solid option for readers doing school reports or those curious about exploring a new frontier.-Denise Moore, formerly at O'Gorman Junior High School, Sioux Falls, SD © Copyright 2015. Library Journals LLC, a wholly owned subsidiary of Media Source, Inc. No redistribution permitted.
(c) Copyright Library Journals LLC, a wholly owned subsidiary of Media Source, Inc. No redistribution permitted.
Book list Apollo 11 astronaut Aldrin welcomes young people to his crew for a journey to build the first city on Mars, while related passages fill in information about the planet and the challenges of colonizing it. Aldrin wrote the book with Dyson, a science writer, physicist, and one-time NASA flight controller. The text includes first-person narrative passages directed at the reader (It will be our job to build the first city on Mars), as well as fact-packed informational sections. Brightening almost every page of this colorful book are photos, NASA images of space objects, and digital pictures (sometimes incorporating photo elements) of imagined scenes that occasionally look stilted. A number of hands-on activities are included, with small-print directions and modest photos as illustrations. The book's text and the visuals sometimes strike a tone intended for younger kids, while at other times they seem to target an older audience. Aldrin's name will draw readers among space-exploration fans, including the many who see Mars as the next frontier.--Phelan, Carolyn Copyright 2015 Booklist
From Booklist, Copyright © American Library Association. Used with permission.