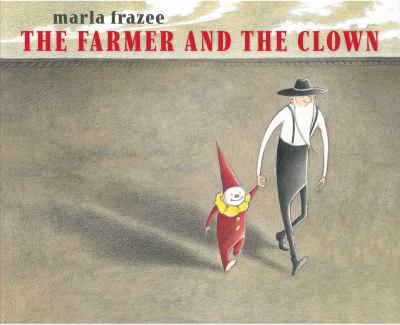 The farmer and the clown
by Marla Frazee


School Library Journal PreS-Gr 2-Frazee's controlled palette of subdued golds, browns, and grays offers a fitting backdrop for the hard-working farmer foregrounded in this wordless tale. Bent over his wheat, he misses the drama above as sweeping cloud formations bleed off the page. A swiftly moving circus train on the horizon introduces color and an unexpected visitor, when a bump on the tracks ejects a young clown. Exuberance meets quiet responsibility as the whirlwind in a red one-piece, the small clown, embraces the legs of the old man. Their similar silhouettes invite comparison, while their hats (one black and wide-brimmed, the other red and conical) suggest contrast. Hand in hand, they enter the farmhouse, where softly textured gouache and black pencil scenes in panels of varying shapes and sizes depict shared meals and ablutions, a protective night watch, and unanticipated antics as rust-colored long johns seem to conjure the farmer's playfulness. The bond, conveyed visually through mirrored motions, continues to develop until the train returns. Readers will wonder how to feel in the penultimate scene until they notice a clown with a black hat waving from the caboose, and the final page contains another surprise. This is a tender look at light and shadow, the joy and comfort in companionship, the lift that laughter provides, and the friendship possible among generations (and species). The poignant relationship calls to mind the quiet potency of scenes in Raymond Briggs's The Snowman (Random, 1978) and Sarah Stewart's The Gardener (Farrar, 2007). Lovely.-Wendy Lukehart, District of Columbia Public Library (c) Copyright 2012. Library Journals LLC, a wholly owned subsidiary of Media Source, Inc. No redistribution permitted.
(c) Copyright Library Journals LLC, a wholly owned subsidiary of Media Source, Inc. No redistribution permitted.
Book list In this wordless picture book, a bearded farmer is alarmed to see a young clown tumble out of a passing circus train. The farmer takes the lost big-top performer home and feeds him, but then, as they wash their faces before bed, the young clown loses his makeup and his moxie. The next morning, the farmer works hard to cheer up the boy by making funny faces, and the boy enlivens the farm chores with a series of tricks. Eventually the circus train passes again, and the boy and the farmer rush to get the little clown back to his clown family, who clearly miss him. Frazee uses a muted color palette that matches the quiet, gentle mood of the story. Her simply drawn characters with minimal facial features beautifully convey emotions, particularly when the dour farmer has more pep in his step after he and the clown go separate ways (but trade hats first). Little ones will delight in the farmer clowning around to the last page, which promises a fun surprise for the old man.--Kan, Kat Copyright 2014 Booklist
From Booklist, Copyright © American Library Association. Used with permission.