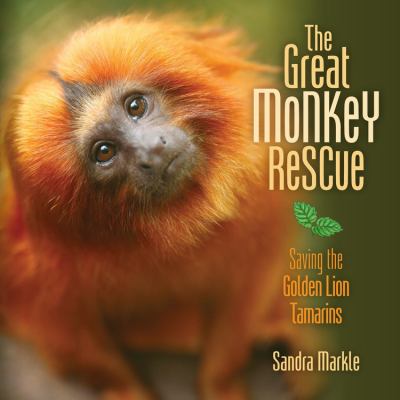 The Great Monkey Rescue: Saving the Golden Lion Tamarins
by Sandra Markle


School Library Journal Gr 3-6-Markle brings to life the complex, decades-long work that scientists and volunteers around the world have done to save the golden lion tamarin from extinction. As the number of monkeys dwindled due to the destruction of Brazil's Atlantic Forest, zoos implemented breeding programs. However, they were unsuccessful until researchers realized how tamarins interact in family groups. Once the numbers increased, new challenges included how to prepare zoo-raised tamarins to survive in the wild and how to provide more habitat by reclaiming pasture land to create forest corridors. Numerous photographs of the golden lion tamarins and the humans working to insure their survival introduce readers to the lives of these intriguing monkeys. VERDICT Readers gain insights into the research, hard work, and patience involved in conservation efforts while learning about a fascinating animal. A fine choice for most collections.-Kathy Piehl, Minnesota State University Library, Mankato © Copyright 2015. Library Journals LLC, a wholly owned subsidiary of Media Source, Inc. No redistribution permitted.
(c) Copyright Library Journals LLC, a wholly owned subsidiary of Media Source, Inc. No redistribution permitted.
Book list Golden lion tamarins are small monkeys native to Brazil's Atlantic Forest. After centuries of logging and the encroachment of agriculture, roads, and towns, the tamarins' habitat has shrunk to a few disconnected patches of suitable forested land. The book opens with a young female who is isolated because the existing family groups in her patch of forest will not accept a second breeding female and the limited habitat will not support a new family. Attention shifts to the intriguing history of a 50-year-old movement to research tamarins, reverse the trend of their dwindling population, and enable them to thrive in the wild. Markle clearly explains the work of several scientists and acknowledges the contributions of committed Brazilians and their government to save the species through reforestation. Told in an engaging manner, the tamarin rescue story is enhanced by large, brilliant photos that appear on every page. From its endearing cover image onward, the book encourages readers to learn about this little-known species and care about its future.--Phelan, Carolyn Copyright 2015 Booklist
From Booklist, Copyright © American Library Association. Used with permission.