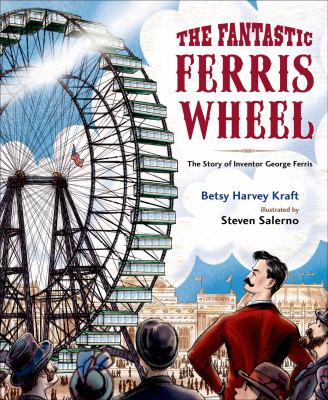 The Fantastic Ferris Wheel: The Story of Inventor George Ferris
by by Betsy Harvey Kraft


Book list Nineteenth-century engineer George Ferris wanted to contribute something breathtaking to the 1893 Chicago World's Fair, and this beautifully crafted picture book shows readers how, in spite of widespread doubts, he came to design the world's first, enormous Ferris wheel. Salerno's multimedia art shows Ferris' boyhood fascination with water wheels, details of his design process, and the enthusiasm of the World's Fair attendees taking a ride. Kraft packs a lot of historical information into her narrative without overpowering the exciting story of Ferris fulfilling his thrilling dream, and the lasting influence his designs have had on the world. Excellent as a research source or an addition to STEM curriculum, this volume is likely to interest readers who delight in building and designing, and maybe even those who are timid about amusement-park rides. This kid-friendly resource is a solid choice for collections in need of thrill-ride histories or engineering and invention titles. Pair with Kathryn Gibbs Davis' Mr. Ferris and His Wheel (2014) for more freewheeling fun.--Goldsmith, Francisca Copyright 2015 Booklist
From Booklist, Copyright © American Library Association. Used with permission.
School Library Journal Gr 1-3-The planners of the 1893 Chicago World's Fair were looking for a spectacular, extraordinary, and never-before-seen attraction that would draw in huge crowds. The idea they eventually accepted was George Ferris's huge observation wheel-what we now call the Ferris wheel. An amazing and awe-inspiring crowd-pleaser, the wheel was 264 feet high and held 36 passenger cars, each of which could hold 60 passengers. This book chronicles the story of Ferris's invention, explains how he overcame the initial reluctance of the members of the fair committee, and describes the glorious success of the invention, despite a storm with gale-force winds that hit Chicago during the fair. The writing is crisp, clear, and descriptive, moving the story along at a quick pace. While the narrative flows smoothly, a number of thoughts and quotes attributed to Ferris are not documented. The book's strength are the dramatic, mixed-media illustrations, which capture the enormity of Ferris's wheel and its spectacular appearance when lit up at night, that steal the show. With an old-fashioned, vintage flavor perfect for the subject matter, these spreads accurately depict the wheel and Chicago in the 1800s-its buildings and its people. Pair with Kathryn Gibbs Davis's Mr. Ferris and His Wheel (HMH, 2014) for even more information about this remarkable invention. VERDICT A strong addition to book collections dealing with inventors and inventions and useful for discussing how written texts and illustrations work together.-Myra Zarnowski, City University of New York © Copyright 2015. Library Journals LLC, a wholly owned subsidiary of Media Source, Inc. No redistribution permitted.
(c) Copyright Library Journals LLC, a wholly owned subsidiary of Media Source, Inc. No redistribution permitted.
Publishers Weekly Kraft and Salerno highlight the technical difficulties and skepticism that accompanied the creation of what's now known as the Ferris wheel as they profile inventor George Ferris. During preparations for the 1893 World's Fair in Chicago, Ferris presented designs for a steam engine-driven observation wheel with 36 passenger cars. Many doubted the plausibility (and safety) of such a mechanism, but on May 1, the wheel welcomed its first passengers to soaring success. Salerno's precisely drafted illustrations give a solid sense of the era, including intricate renderings of Chicago architecture and the construction of the wheel, while Kraft creates a genuine suspense in the lead-up to its debut. Ages 5-9. (Oct.) © Copyright PWxyz, LLC. All rights reserved.
(c) Copyright PWxyz, LLC. All rights reserved