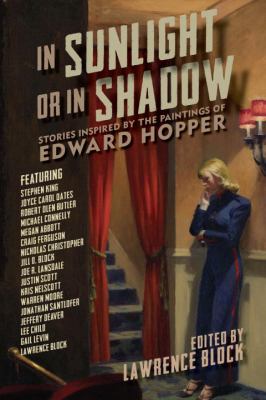 In Sunlight or in Shadow
by Lawrence Block


Library Journal In this well-curated collection, 17 authors submit stories inspired by paintings from American realist artist Edward Hopper (1882-1967). As Block notes in the foreword, various genres "or no genre at all" are represented; some "spring directly from the canvas"; others "rebound obliquely" from the chosen painting. Color plates accompany each tale. Standout stories include -Jeffery Deaver's clever use of Hopper's Hotel by a Railroad in "The Incident of 10 November," told by a doomed Soviet apparatchik; Lee Child's "The Truth About What Happened," based on Hopper's Hotel Lobby, and rendered in the author's trademark terse, ironic style; Michael Connelly's "Nighthawks," which features Hopper's most famous painting and Connelly's Harry Bosch on assignment in Chicago; Joe R. Lansdale's gothic "The Projectionist," the longest and most fleshed-out entry (New York Movie); Craig Ferguson's wry Lansdale-esque elder-buddy story, "Taking Care of Business" (South Truro Church); and Joyce Carol Oates's excruciatingly interior will-she-or-will-he tale, "The Woman in the Window" (Eleven A.M.). Other contributors include Hopper biographer Gail Levin; Megan Abbott and Jonathan Santlofer, who both explore abusive relationships and the male gaze; Stephen King, with a cheerful murderous couple; and Block, whose perfect down-and-out tale ends the volume. VERDICT A nice-looking book for Hopper fans and short story readers, this title would also make a great gift.-Liz French, Library Journal © Copyright 2016. Library Journals LLC, a wholly owned subsidiary of Media Source, Inc. No redistribution permitted.
(c) Copyright Library Journals LLC, a wholly owned subsidiary of Media Source, Inc. No redistribution permitted.
Publishers Weekly Iconic American painter Edward Hopper serves as muse for editor Block and an impressive array of 16 other writers-including Megan Abbott, Robert Olen Butler, Lee Child, and Jeffery Deaver-who select their favorite Hopper paintings to inspire a short story. In "The Music Room," contributor Stephen King, who happens to own a reproduction of Room in New York, 1932, turns that work's seemingly innocent domestic scene-a man at a table reading a newspaper, a woman nearby striking a note on an upright piano-into a gruesome tableau involving a macabre scheme to stay ahead of the Great Depression. In a similar noir vein, for Joyce Carol Oates, Eleven A.M., 1926 (which depicts a naked woman seated in a comfortable chair staring out of a city window) inspires a suspenseful duel of murderous intentions as a mistress waits for her married lover to appear in "The Woman in the Window." In "The Preacher Collects," Hopper historian Gail Levin weighs in with a fictional tale (in which she plays a minor role) based on her scholarly research, depicting the nefarious means by which Rev. Arthayer R. Sanborn comes to own a cache of Hopper's works. Block tops off this remarkable collection with "Autumn at the Automat," inspired by Automat, 1927, in which a young woman has a clever strategy that will keep her flush in rent money, possibly for years. (Dec.) © Copyright PWxyz, LLC. All rights reserved.
(c) Copyright PWxyz, LLC. All rights reserved
Book list *Starred Review* Intrigued by how Edward Hopper's work resonates profoundly with readers and writers, given the intensity of his brooding paintings' aura of inner turmoil and bleak expectancy, Block invited fellow mystery writers and other literary luminariesto pick a Hopper painting and write a story inspired by it. The 17 results are searing and ensnaring, clever, erotic, and disquieting tales of anger and subterfuge, desperation and revenge. Some focus on the artist himself, including Megan Abbott's Girlie Show, an indicting yet triumphant interpretation of the famously contentious Hopper marriage. Others stories focus on the figures in the paintings, including two more tales of hidden female power: Jonathan Santlofer's Night Windows and Joyce Carol Oates' The Woman in the Window. Surveillance is the theme in several tales, including Jeffery Deaver's surprising, funny, and dire Cold War plea for leniency. Stephen King turns an oppressive domestic scene into a shockingly macabre story of Great Depression survival. Hopper biographer Gail Levin, editor of a similar collection, The Poetry of Solitude: A Tribute to Edward Hopper (1995), contributed a delectably unnerving story based on a rather astonishing aspect of Hopper's legacy. Robert Olen Butler, Lee Child, Michael Connelly, Justin Scott, and Block himself also appear in this lushly illustrated, darkly alluring, deliciously unnerving union of art and story.--Seaman, Donna Copyright 2016 Booklist
From Booklist, Copyright © American Library Association. Used with permission.