Adult Literacy/ESL
See more at: https://www.proliteracy.org/Resources/Media-Kit/Logos#sthash.VU8CJRDE.dpuf
Second Start @ Your Library:
Imagine not being able to write a check, fill out an application,
Adults come to the Library's Adult Literacy/ESL Program with a variety of goals:
To learn basic reading and writing skills.

To learn to speak and read English.

To get a job.

To help their children.
Adults can improve their literacy skills when they are given encouragement, guidance, and appropriate materials. Volunteers help with free tutoring.
---
Join the Program:
Adult Learner Qualifications:
Must be at least 16 years old and not attending high school.

Able to meet once or twice a week for 1 hour each time.

Commit to at least 6 months of tutoring.

Be a resident of Greenwood County.
Download an Application:
Application para adultos para estudiar Ingles como una segunda lengua
If you want to volunteer as a tutor, you first need to fill out the GCL Volunteer Application on the Volunteer Program page and then fill out the ESL/Literacy Volunteer Application.
For more information about the Adult Literacy/ESL Program or to volunteer as a tutor, please contact the Library's Adult Literacy/ESL Program Coordinator, Pattie Fender, at 941-3044 or email Pattie at pfender@greenwoodcountylibrary.org.
---
Language Learning Resources: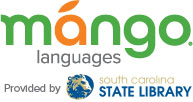 Mango Languages is an online language-learning system that teaches actual conversation skills for over 60 languages from around the world. Each chapter aligns your learning to a set of conversational and grammar goals, with highly relevant culture notes sprinkled into each lesson. Intuitive popups help you tune your pronunciation with precision. Record your speech and compare it directly to audio from a native speaker to hear exactly how to tune in your accent. Learn a new language today!