These events will be shared on our Facebook!
Be sure to check them out!
Learn how adult coloring can
help you relax, here.
See the many ways you can use
your artwork, here.
Download and print these.
TWRA Boating Exams
Exams are administered by specific staff member so must be scheduled by appointment only.
Before scheduling your appointment you should have already purchased a Type 600 boating
safety exam permit and studied the course material.
Click here to access the free Study Guide online.
Request an appointment for a boating exam by clicking here or call the library at 615-824-0656
and ask for Jake.
For more information visit the TWRA boating education site here
Thank you!
Access ebooks and audiobooks from the Overdrive/Libby app with your Hendersonville Public Library card.
We have added the titles to our catalog for quick access. You can search for electronic resources, or click the search button to see a tab for recently added ebooks or eAudiobooks.
When you click on More Options button under downloadable, it will take you to the READs site where you can log in with your library card and borrow it or place it on hold.
You can send a print job to our printer from anywhere
using the mobile print service.
On your desktop, laptop, tablet or cell phone
send an email or use the app.
Click here for more information
Download the app and search for our printer by location.
Complete the 2020 Census online. Click here.
You can also use any of the public computers to complete the census.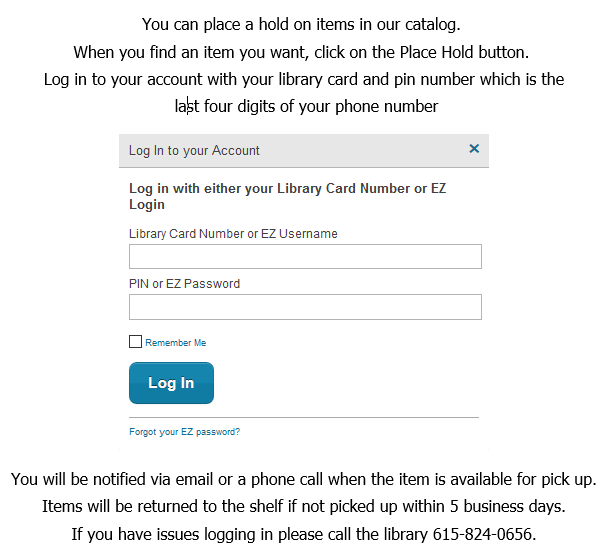 The library is open to the public.
As part of our safety precautions, we are taking everyone's temperature with a no touch thermometer and have a health screening questionnaire to complete.
We ask that you please wear your face coverings, practice social distancing and limit your visit to an hour or less as we have to limit the number of people in certain areas of the building.
Printing/Scanning/Faxing services are available. Computer usage is limited to one hour sessions.
Study rooms are available on a first come first serve basis and limited to one hour of use.
Curbside service for picking up items placed on hold is offered.
Please return ALL library materials to the outside book drop. Regular due dates will be enforced and fines and late fees will accrue beginning August 1st.
We appreciate your cooperation and patience. Thank you